Overview
The Patchs Telephone Assistant is a revolutionary way for patients to access primary care whilst minimising workload and maintaining control of demand for GP practices. Patients speak to the Telephone Assistant who takes the details of their request. The message is automatically transcribed and is sent to the Patchs inbox for you to review like a standard Patchs online consultation.
Benefits
Productivity
Reduce pressure on reception at peak times.

Add extra receptionist capacity at a low cost.

Standardise triage and workflows for telephone and online requests.
Accessibility
Improve access for patients that cannot use online services.

Eliminate call waiting times

.
Safety
Set limits on how many calls you receive throughout the day.

If you have

Urgency AI and Signpost AI modules switched on, they will automatically triage patient messages using our

UKCA Marked Class I medical device

Patchs AI

.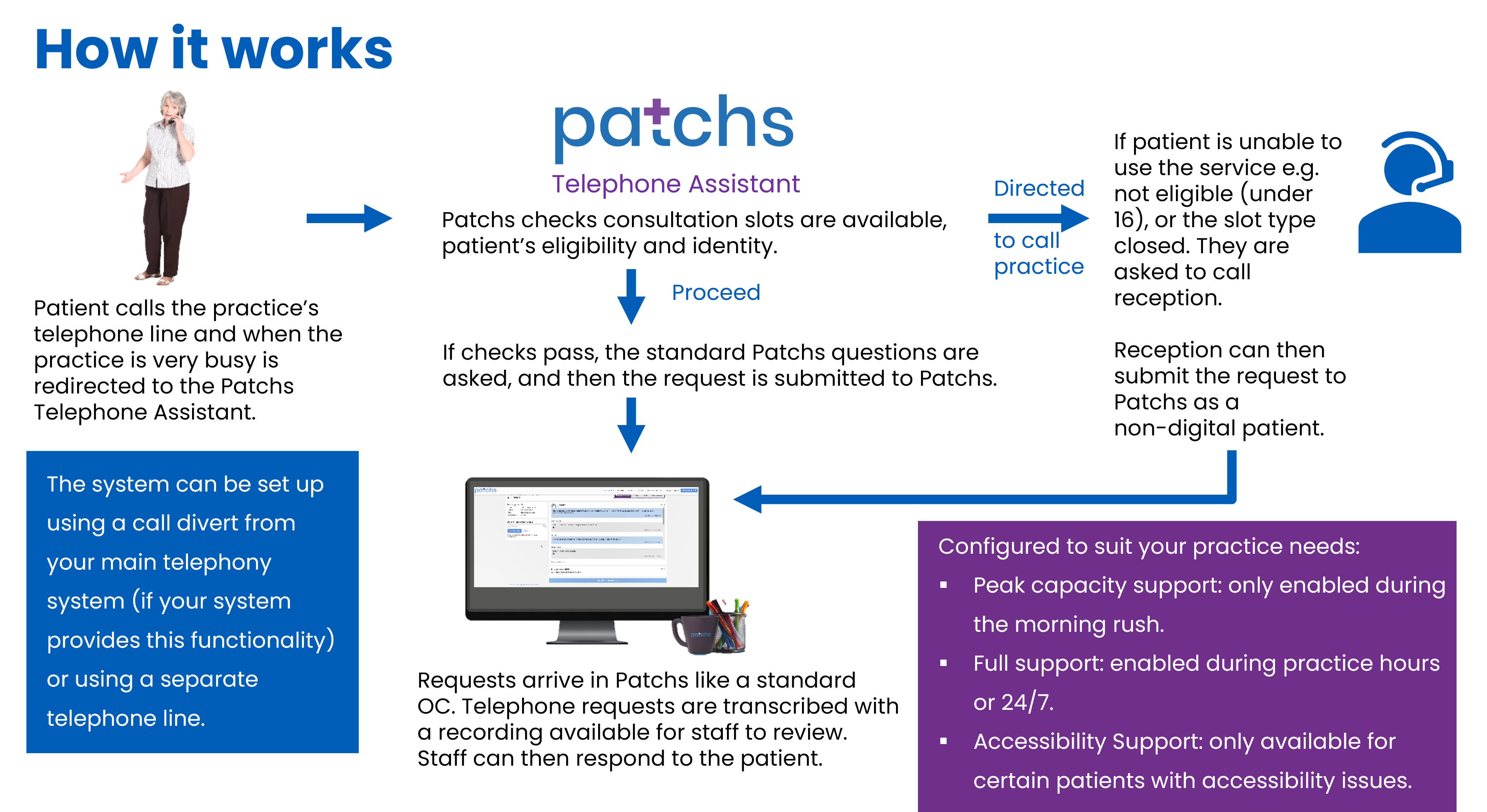 Patient Journey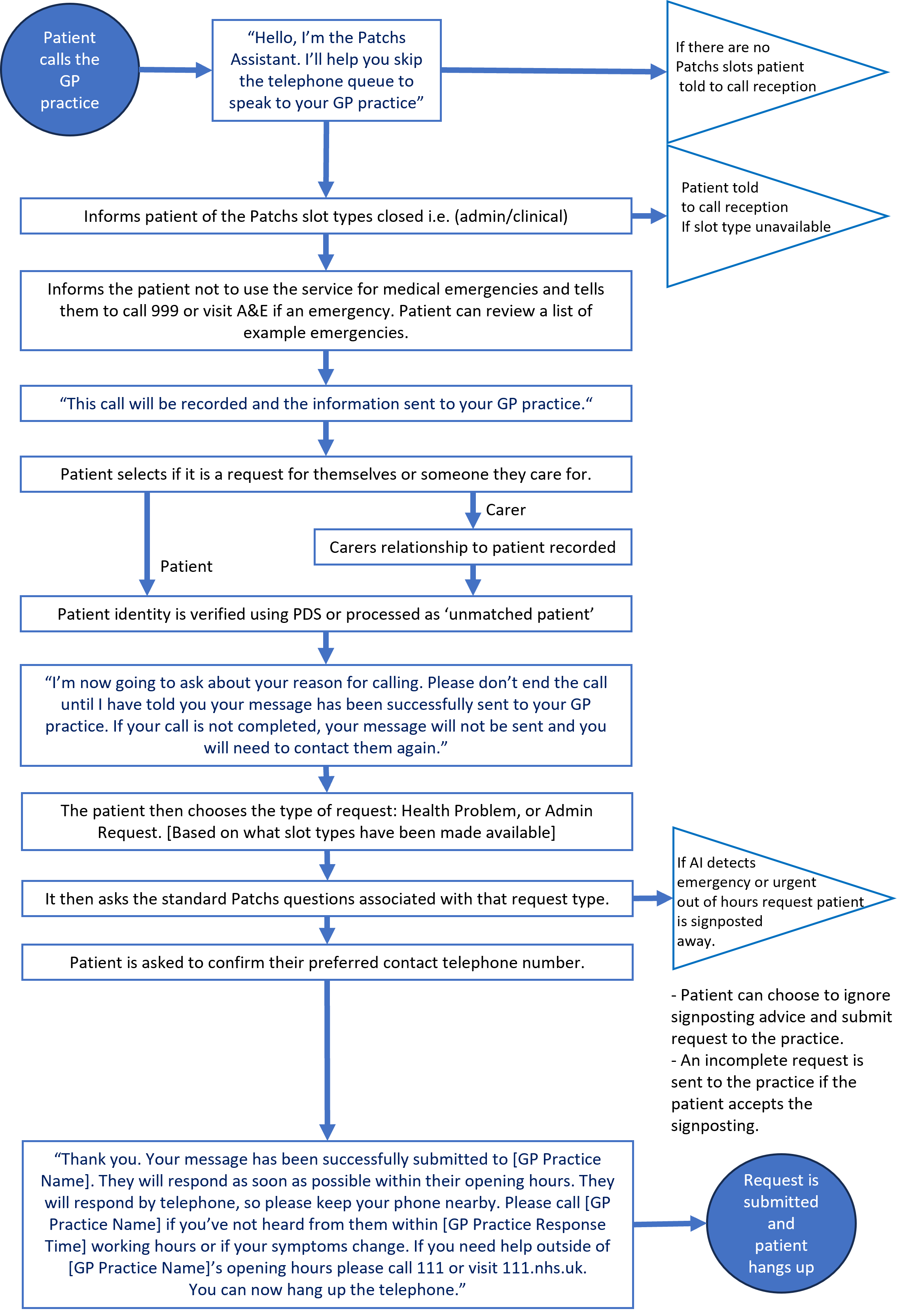 GP practice workflow
Once a request is received it can be processed like a standard Patchs online consultation with a few key differences:
1. Telephone Assistant warnings: It will state the message has come from Telephone Assistant in the message details section and at the top of the chat history.


2. Audio playback: The audio recording of the call will be automatically transcribed and displayed like a normal online consultation. A playback option is available allowing you to hear that segment of the call and check the accuracy of the transcription.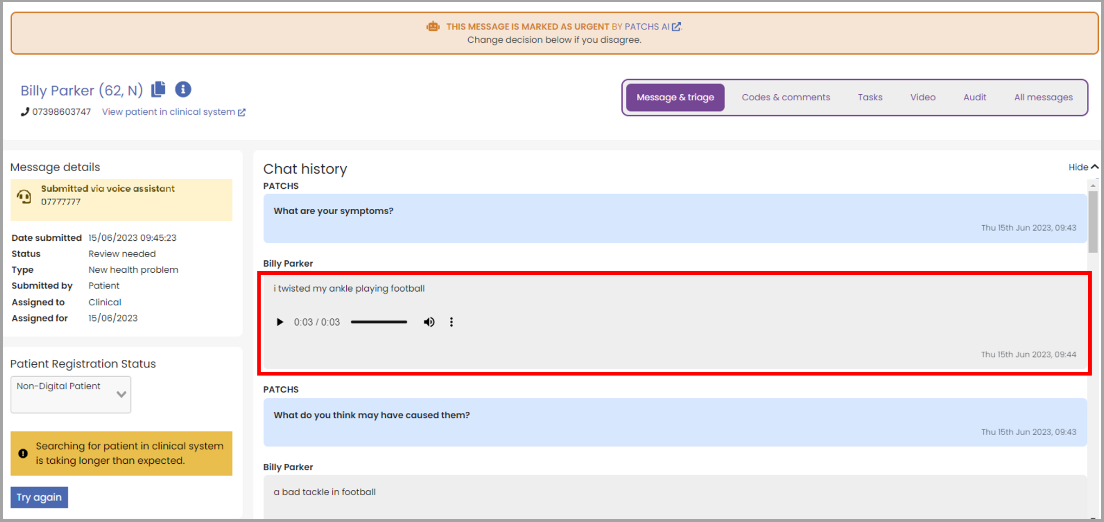 3. Edit the transcription: You can edit the transcription directly if it has errors so your medical records can be as accurate as possible.


4. Respond to the patient as normal: By telephone or written message.
5. Save the consultation to your Clinical System: Once the consultation has been completed it can be saved like a standard online consultation request.
Telephone Message
Where the telephone message regarding the Telephone Assistant is presented in your telephony system and the wording of the message, are crucial factors in determining the uptake.
Message Timing: to ensure that as many patients can access the service as possible, the message should be one of the first things the patient hears. If not, the patient will likely continue to reception and you will not reduce your call volumes.
Message Wording: this is crucial in setting patient expectations of using the service. It needs to be clear that it can save them time and the patients for which it is suitable. This can increase uptake and reduce abandonment. Here is some suggested wording: "To avoid waiting on hold, registered patients over the age of 16 can now leave a voice message using our Telephone Assistant and we will respond as soon as possible. If you would like to leave a voice message press 1 otherwise please continue to hold."
Call Diversion
We have chosen to disable call diversions whilst we work with our telephony operator to reduce associated costs.
Enabling the Telephone Assistant
This is a guide to enable the Telephone Assistant
Frequently Asked Questions (FAQs)
Please see here for the Telephone Assistant FAQs.