Assign AI is currently only available to our Early Adopter sites. If you'd like to become an Early Adopter site please let us know through the 'Give feedback' button when logged into Patchs.
What is Assign AI?
Assign AI makes suggestions about whether a patient's request may require review by a clinician. As soon as requests are submitted by a patient, if PATCHS thinks it requires review by a clinician it assigns it to the 'Clinical' inbox. From this inbox a receptionist may be able to quicker assign requests to clinicians, or clinicians may work directly from the Clinical inbox to save time. Assign AI's suggestions meant to assist, not replace human judgment. You should therefore still triage and reply to PATCHS requests ASAP because the AI suggestions could be wrong.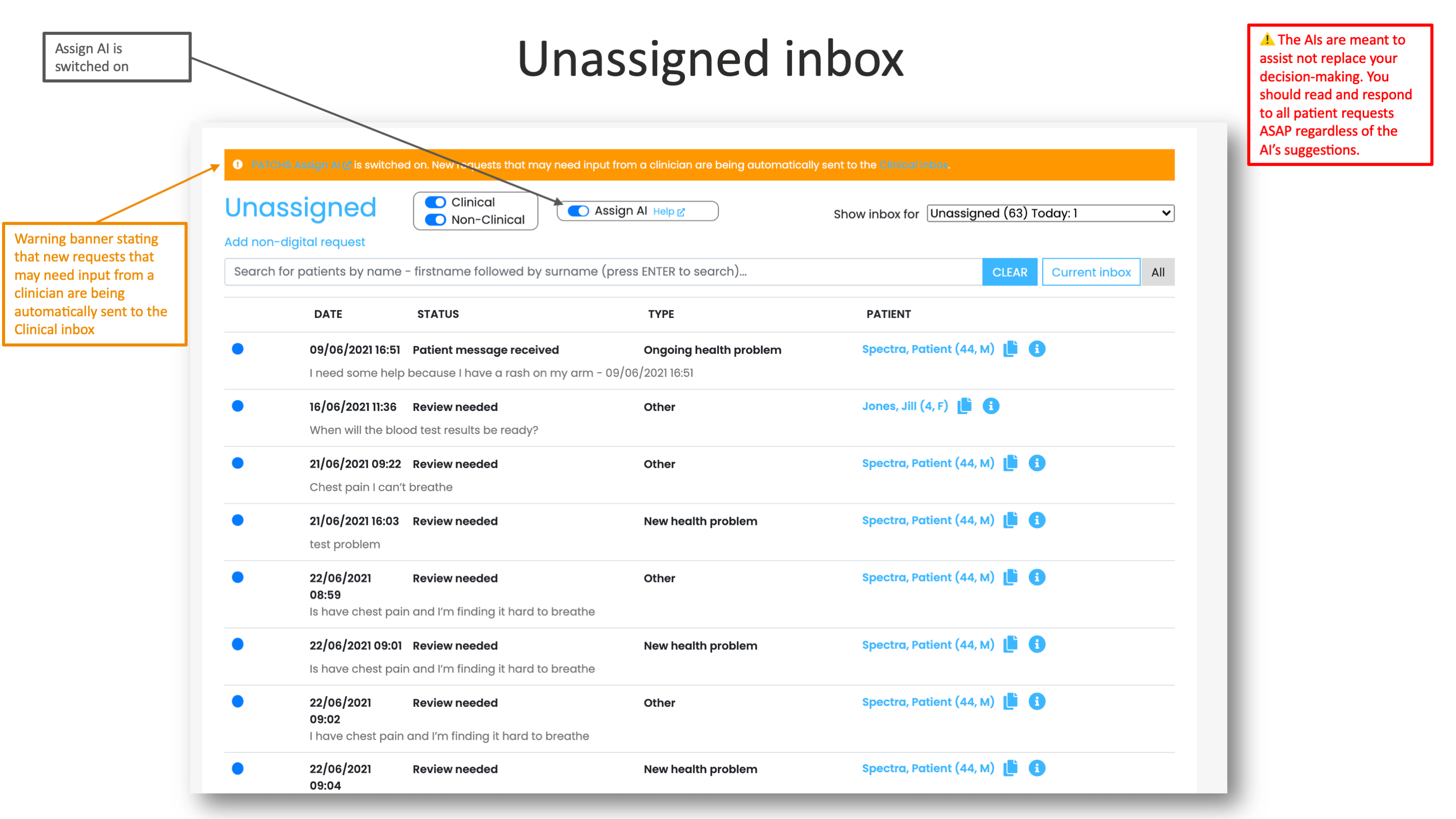 How does Assign AI work?
PATCHS analyses patient requests using Deep Learning, which is a kind of Machine Learning. It is not a keyword search, or clinical guideline algorithm.
PATCHS has learned how to triage each time a human user (like you) makes a triage decision and assigns a request to a user. This means PATCHS can deal with real-world patient health problems, spelling mistakes, and uncertainty - all of which are essential for General Practice!
PATCHS has learned from the experience of all PATCHS users across the country who triage tens of thousands of patient requests each week - i.e. the wisdom of the Crowd. And it's learning more every day - each time you make a triage decision you're teaching PATCHS how to triage similar patient requests in future.
What should I do if I see suggestion from Assign AI?
If you agree with the urgency suggestion made by Assign AI then there's no need to do anything - just process the request as you would normally.
If a request needs clinical input and Assign AI got it wrong, you should assign the request to a clinician. This is the only way PATCHS will learn from its mistakes.
If you're a clinician and you have been assigned a request that doesn't need clinical input, you should make that clear when you answer the 'Who is most appropriate to resolve this?' question when making a triage decision by not selecting 'Me'.
What are the benefits of Assign AI?
Without Assign AI, initial triage decisions are made by receptionists. Advantages of PATCHS doing this instead are that it is:
Improves patient safety by speeding up triage decisions, helping requests that need clinician input get reviewed quicker
Reduces workload by suggesting triage decisions
Can improve the accuracy of the initial triage because it's learned how to triage from GPs
Reduces the clinical risk placed on receptionists when triaging by providing suggestions