Reporting
PS-1633 Weekly Count and Monthly Count time series reports
PATCHS 1.43 includes 2 new request reports
Weekly count time series

Monthly count time series

Request Inbox and Request Details
PS-1760 GP messages that fail to deliver are returned to the sender's personal inbox.
Practice-initiated messages that need a reply from a patient are now moved to the inbox of the user who sent the message if the email or SMS returns a failed delivery receipt.

PS-1674 Red flag rules will apply red emergency flags
Any requests picked up by red flag rules are now predicted as having a red emergency status.

If you disagree with the suggested emergency triage status, you can change it from the Triage decision panel

PS-1745 Questionnaire answers will set patient response as an emergency
The following questionnaire responses will set the response from the patient as urgent:
MENTAL HEALTH PHQ9
Q9 Over the last 2 weeks, how often have you been bothered by thoughts that you would be better off dead, or of hurting yourself in some way?
Response is anything other than 'None'

BACK PAIN - RED FLAG QUESTIONNAIRE
Response - Yes to any of the questions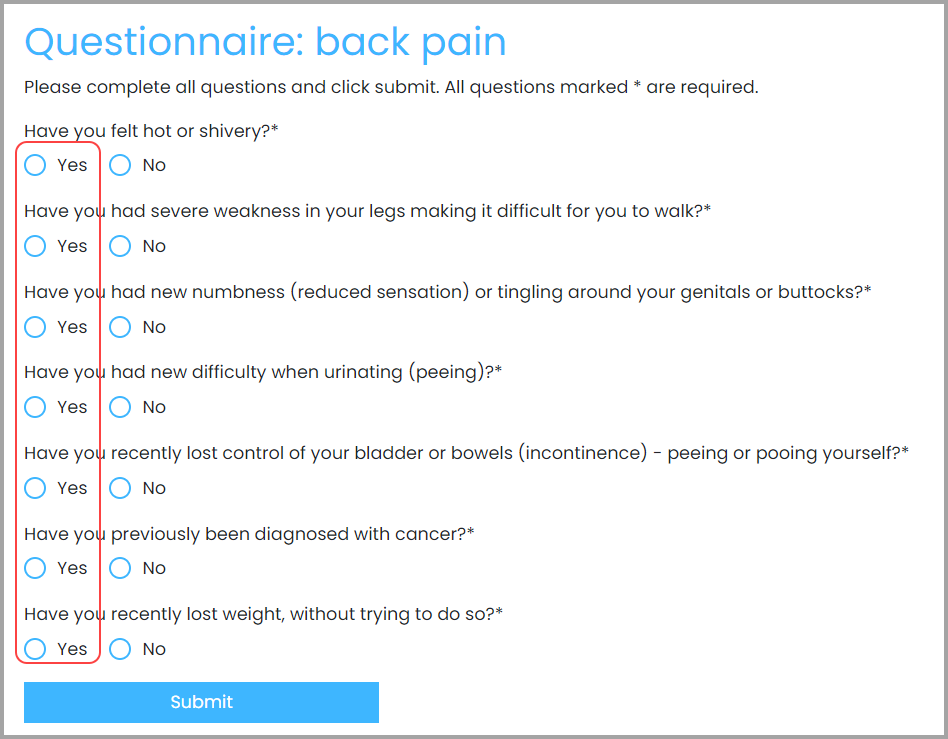 PS-1689 Highlight red flag question responses to staff
On the request details page you will now see if (and how many times*) a patient has answered 'yes' to the initial red flag question before submitting their request.

PS-1753 Face to Face AI
A 'Face to Face' AI model has been added that will predict when a patient request is likely to require a face to face appointment.
This will show a new inbox icon and will suggest the 'face to face' triage action on the request details page.

If you disagree with the suggested 'face to face' triage action, you can change it from the Triage decision panel

Questionnaires
PS-1766 New questionnaires
You can now send the following questionnaires to patients from Patchs
Breathlessness - MRC dyspnoea scale
Back pain red flags
FeverPAIN score

Reporting
PS-1633 Weekly Count and Monthly Count time series reports
Patchs 1.43 includes 2 new request reports
Weekly count time series

Monthly count time series