Appointment reminders are currently only available for SystmOne practices. We anticipate they will be available for EMIS practices in June 2023.
Overview
PATCHS appointment reminders can be used to remind patients when they have an upcoming appointment at your practice. PATCHS appointment reminders work for all appointments in your clinical system, not just those booked via PATCHS.
Patients will receive a reminder 24 hours before their appointment, using their contact information on the Personal Demographics Service (PDS).
For appointment reminders PATCHS users can now use a button to update clinic & slot types, management of cancelled appointments and reminder delivery method.
Enabling appointment reminders
Appointment reminders can be enabled from your feature settings page by your PATCHS Admin user.
Before enabling appointment reminders you should add your practice's SystmOne Practice Name.
You can find your Practice Name in SystmOne by going to: Staff & Organisation Setup --> Amend Organisation


You can then then enable appointment reminders by ticking the box, which will create the Appointment Reminders tab.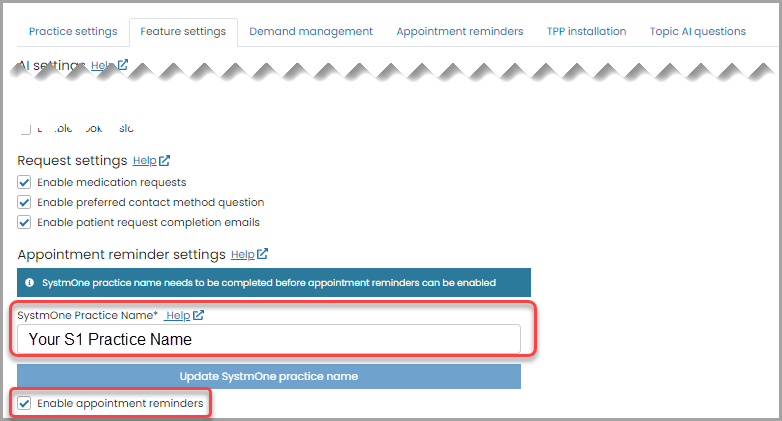 Appointment reminder settings
You can configure your appointment reminder settings from the Appointment Reminders tab. Select Update Clinic and Slots to show the most up to date clinics and slots at your practice.

Adding a new appointment reminder
To add a new appointment reminder select the Add a new appointment reminder button.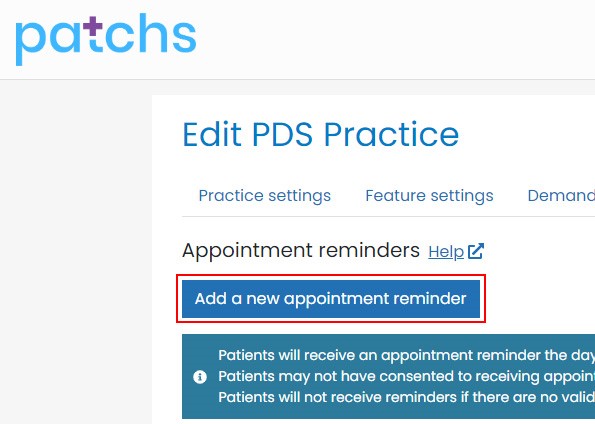 The following appointment reminder settings can be used:
Enabling appointment reminders

When appointment reminders are enabled for a particular clinic type patients will be sent a reminder 24 hours before their appointment.

Email Enabled

When email is enabled patients will receive their appointment reminder by email

SMS enabled (visible at practices with PATCHS SMS)

When SMS is enabled patients will receive their appointment reminder by SMS
Patients may not have consented to receiving appointment reminders, though they can unsubscribe from receiving future ones. Patients will not receive reminders if they do not have valid contact details on PDS or they have unsubscribed from reminders.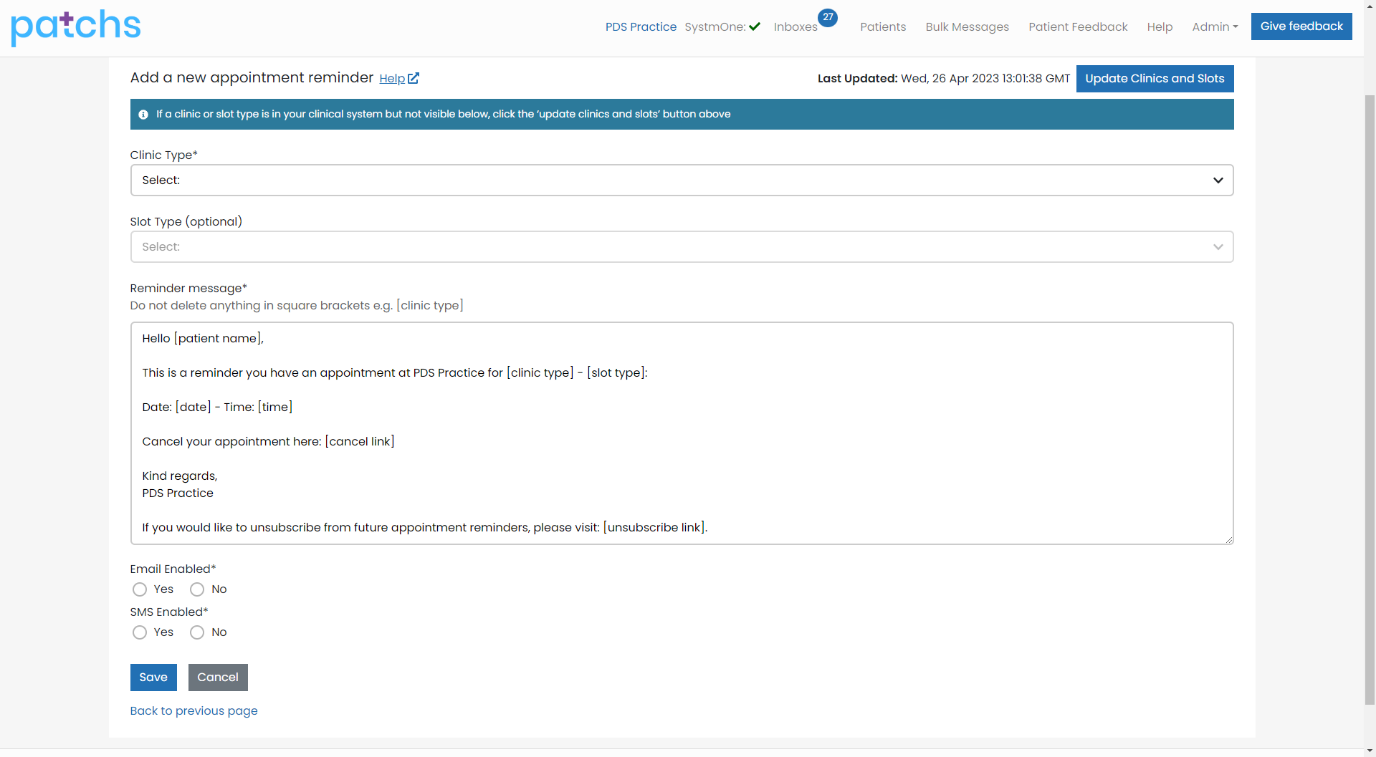 Edit appointment reminder settings
To change the appointment reminder settings for a particular clinic type, you should click on Edit the link at the bottom of the panel.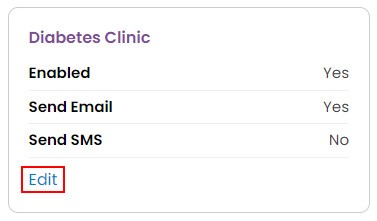 You can edit:
Whether or not the reminder is

enabled

The reminder message text

Whether the renminder should be sent via email and/or sms
To change the clinic or slot type that please add a new reminder.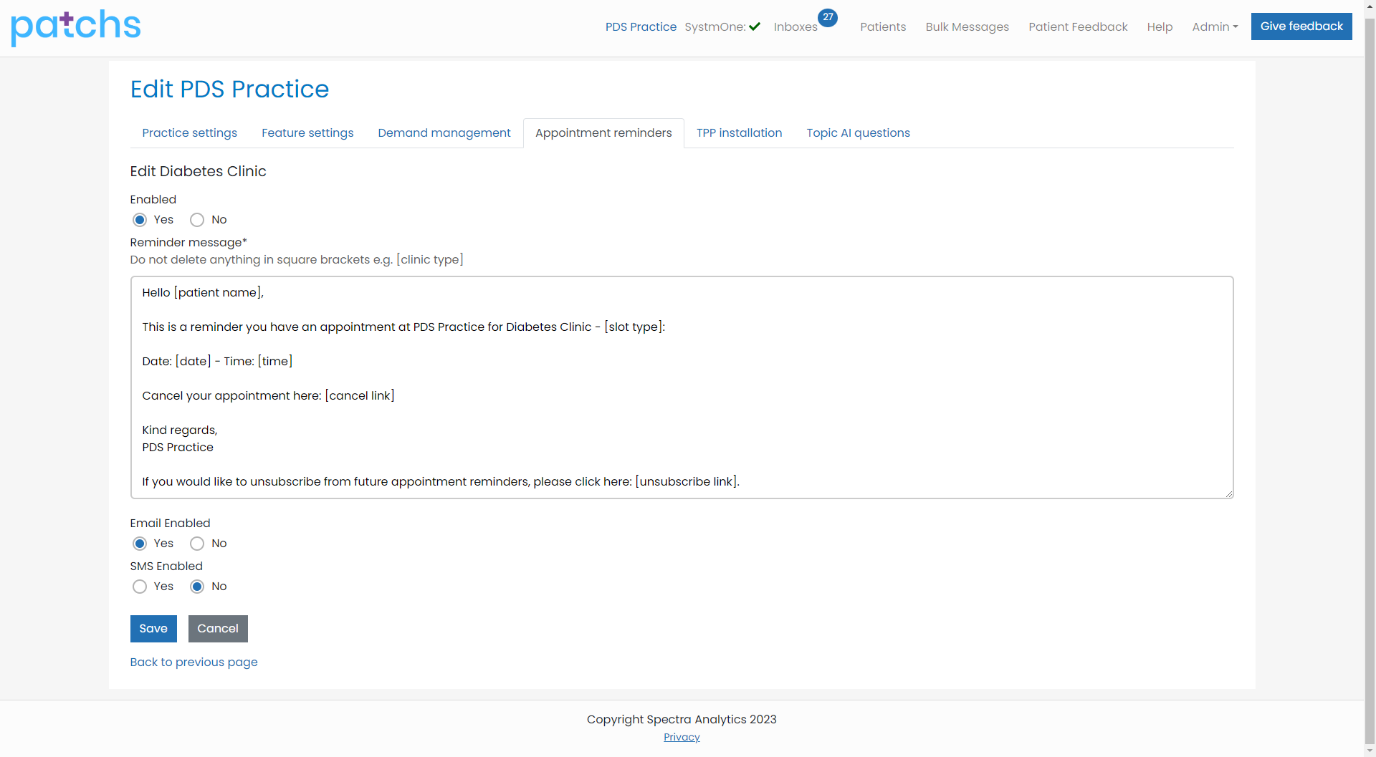 What patients see
Patients receive an SMS and/or email reminder (dependent on how you configure the reminders) about their appointment 24 hours beforehand. This includes a link to cancel the appointment and an option to opt out of future reminders.