Topic AI questions allows you to choose different questions and questionnaires to ask patients when they submit a PATCHS request that contains a topic picked up by Topic AI. You can choose from over 90 different clinical topics, and use any template questions and questionnaires in PATCHS - either our standard ones or ones you've created yourself.
When patients are asked to complete a questionnaire by Topic AI, they can decline to answer it if they think it is irrelevant to their request. This is because research evidence and our own experience shows that patients will not use online consultations if they are asked too many irrelevant questions.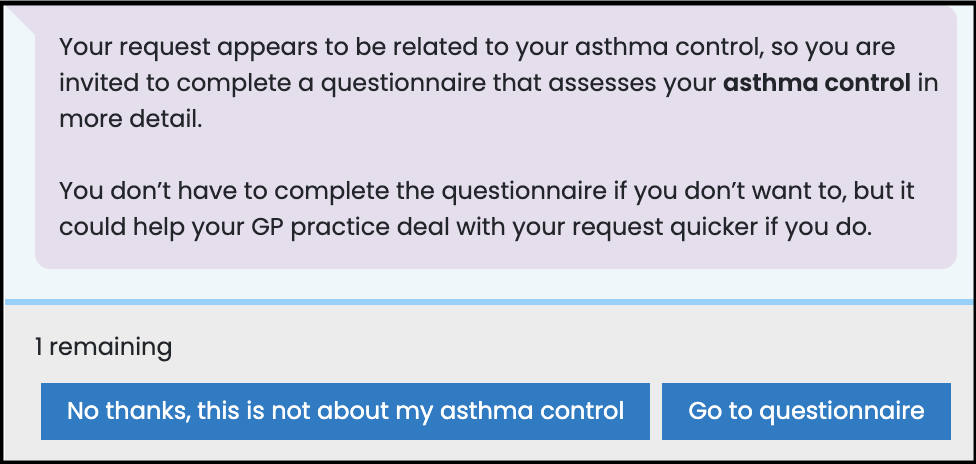 Default settings
There are certain questions and questionnaires we recommend as standard. Please note some of these will trigger the Urgency and Signpost AIs if certain answers are given by patients. Where possible, we try to recommend questionnaires that have an extensive evidence base and usage in clinical care (e.g. PHQ-9, asthma control, FeverPAIN). We try to avoid making our own questionnaires because they will not be scientifically validated nor collect all the information each GP practice may want. However, we can work with you to develop your own questionnaires and implement them across your local area or region - please contact us using the 'Give Feedback' button when logged into PATCHS.
| | | |
| --- | --- | --- |
| Topic | Default question or questionnaire | Urgency + Signpost AI triggers |
| ADHD | ADHD self report scale questionnaire | Nil |
| Anxiety | GAD-7 questionnaire | Nil |
| Asthma | Asthma control questionnaire | Nil |
| Dermatology | Attach Photo question | Nil |
| Autism | Autistic Spectrum Quotient questionnaire | Nil |
| Back pain | Back pain red flag questionnaire | Emergency - if patient has any red flag symptoms |
| Cough | Cough questionnaire | Emergency - if patient says they are breathless |
| Depression | PHQ-9 questionnaire | Emergency - if patient answers positively to final question about self-harm or suicide |
| Sleepiness | Daytime sleepiness questionnaire | Nil |
| Snoring | Daytime sleepiness questionnaire | Nil |
| Knee | Knee pain score questionnaire | Nil |
| Prostate | IPSS questionnaire | Nil |
| Sick note | Sick / Fit note details questionnaire | Nil |
| Smoking | Smoking status questionnaire | Nil |
| Sore throat | FeverPAIN questionnaire + Attach Photo (tonsils) question | Urgent - if patient scores 4 or more on the FeverPAIN questionnaire |
Change question order
You can change the order in which questions and questionnaires are asked to patients (if a topic is predicted by Topic AI) by dragging them up and down the list.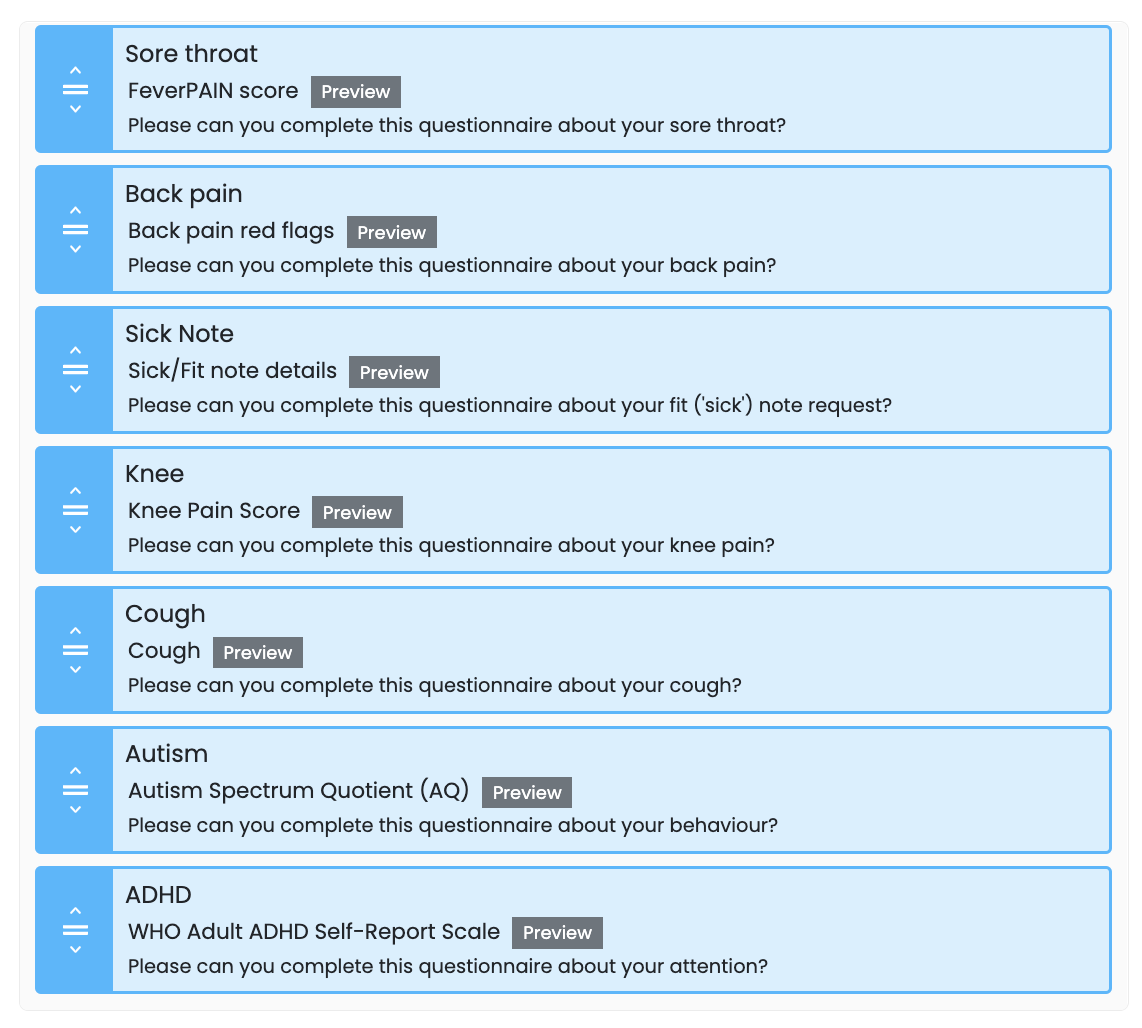 Add new question
You can add your own questions or questionnaires by using selector on the right of the page. These include any of our standard PATCHS message templates and any you've added yourself as a practice.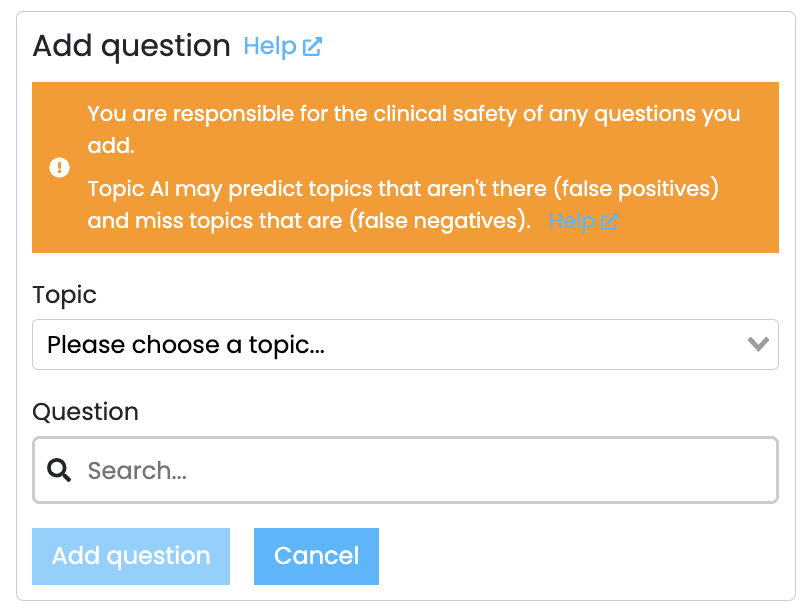 Depending on your practice settings you may see two additional options when adding a new question:
'Patients can decline to complete these questions if they think it's not relevant to their request'. This will be ticked by default so patients can decline to answer the questionnaire if they think it's irrelevant to their request. If you untick this box, patients have to complete the questionnaire to proceed. If you untick the box please be aware that research shows that patients may abandon their request and: 1) Submit another request with different answers so it is not picked up by Topic AI, which is a risk because you will not know the patient's true symptoms, 2) telephone your practice causing queues and creating delays in care for both themselves and others, 3) Not seek care at all.
'Apply to all requests'. If you tick this option the question will be asked to all patients every time they submit a request. For example, if you want all patients to answer questions about their smoking status or alcohol intake you can tick this box for the 'Smoking status' and 'AUDIT-C' questionnaires.
Clinical safety
Please note you are responsible for the clinical safety of any questions or questionnaires you add. However, gathering further information from patients via questions is felt by our Clinical Safety team to be safe as long as you do not also give the patient information, for example signposting to other services. This is because Topic AI isn't currently linked to Urgency AI - so questions and questionnaires will be triggered by Topic AI regardless of the urgency of the patient request - though we are working on adding this in future.
Please also note, because PATCHS AI is not 100% accurate (nothing is), that Topic AI may:
Predict topics that aren't there (false positives) - meaning patients may be asked questions or to complete questionnaires that aren't relevant (though they can decline to answer them).
Miss topics that are there (false negatives) - meaning patients may not be asked questions or to complete questionnaires you'd like them to (though you can ask the patients the questions or questionnaires manually by sending them a message from a template).