When sending messages to patients you can either manually type a message, or pick one from a list.
Patients are notified about your message by email as default. If your CCG have enabled our SMS module, when you click 'Send as SMS' patients will also be sent an SMS notification in addition to the email.
When picking from a list, you can choose from:
When you send a message to a patient either from the patient details page or when responding to a patient request, use the Pick message from list button to search for and select a message template.


Search for them using the search box. You can set favourites for easy access by clicking the star icon: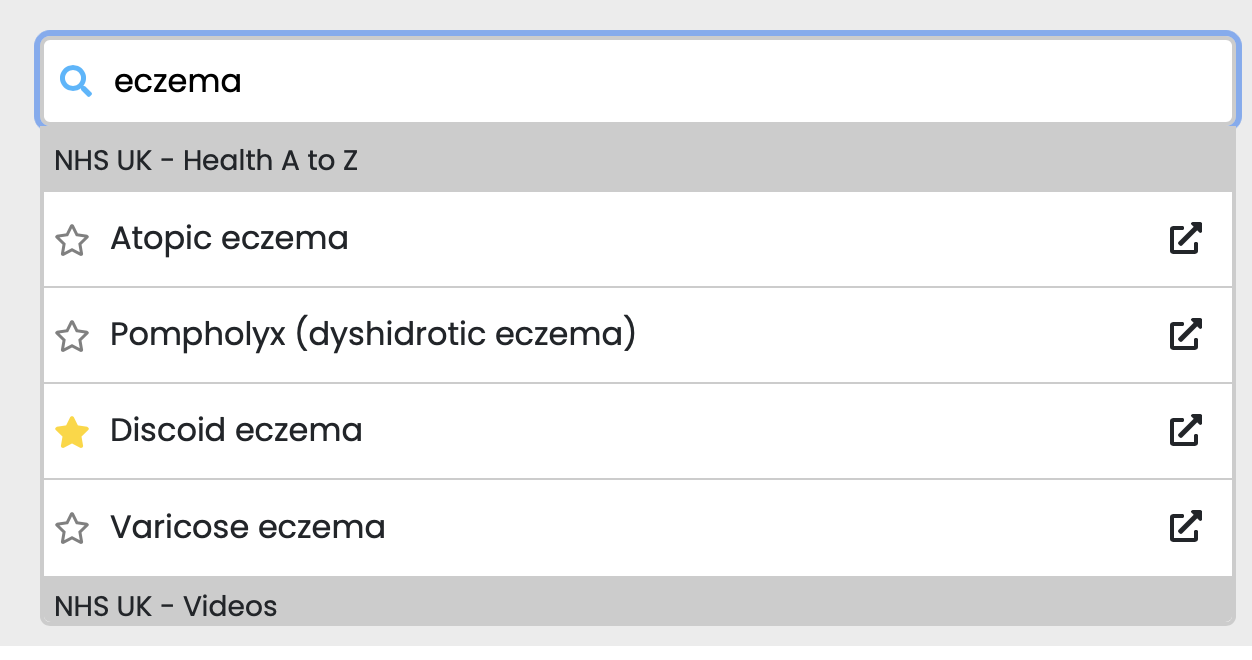 You can visit links and questionnaires before you select them to make sure they're what you want to send by clicking this icon

.
Once you have selected a template from the search it will appear in the 'Selected messages' box on the right. You can delete individual messages or groups, and change the order in which they appear: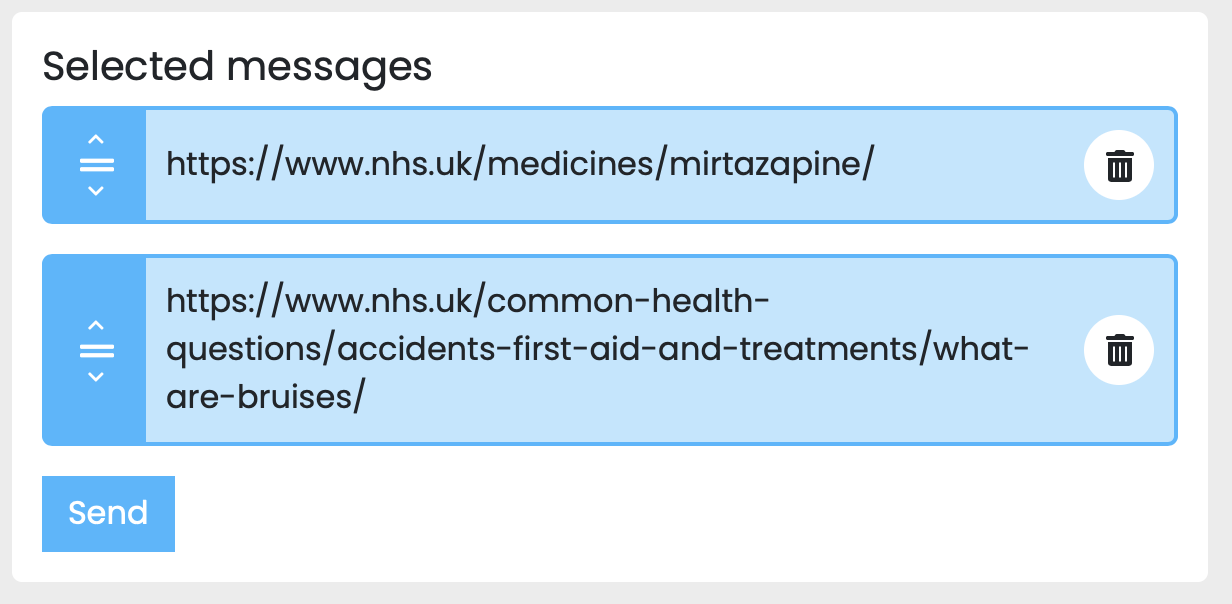 You can also edit templates by clicking in the box and changing the text.
Once you're happy, click 'Send' - the patient will be sent those messages in order.
We're adding more standardised responses all the time - if there's something missing you'd like to see, please tell us using the 'Give feedback' button in the top menu when logged into PATCHS, or you can create your own template messages for your practice.
Finishing a request with unanswered questions and questionnaires
If you click the 'Finish' button where the patient has not answered all the questions and/or questionnaires you have asked them, it will be sent to the 'Awaiting response' inbox. When the patient replies, it will go back into the 'Unassigned' inbox (this is in case the patient responds on a day you are not working). This feature is useful if you want to clear your inbox without closing requests.
Available message templates
The following templates are available to all practices. You can also create your own message templates for your practice to use - read about how to create your own message templates here.
Advice

Individual Question

Question Set

Questionnaire

Back pain exercises

Attach photo request

Sore Throat

Asthma Control

Back pain red flags

Attach photo request - tonsils

Urinary Tract Infection

Asthma RCP

Failed telephone encounter - close down request

COVID vaccination 1 offer

AUDIT-C

Failed telephone encounter - please call practice

COVID vaccination 2 offer

Autism Spectrum Quotient (AQ)

Failed telephone encounter - try again later

Pharmacy clarification

Back pain red flags

[NB request will be marked as Emergency if patient says they have any red flag symptoms]

'Fit (sick) note request'

Breathlessness - MRC dyspnoea scale

Food and symptoms diary

PHQ-9 final question clarification

Cough

[NB request will be marked as Emergency if patient says they are breathless]

Hip pain exercises

Daytime Sleepiness

How to use a nasal spray (video)

FeverPAIN score

[NB request will be marked as Urgent if patient scores 4 or more]

How to use your inhaler

Full AUDIT

Knee pain exercises

GAD-7

Medication request received - 48 hours

GP-PAQ

Medication request received - 72 hours

Health Assessment for Night Workers

Neck pain exercises

IPSS

Normal test results

Knee score

Overactive bladder and bladder training

PHQ-9

[NB request will be marked as Emergency if patient answers positively to final question about self-harm or suicide]

Patient Participation Group (PPG) information

QRISK2

Peak flow diary

Smoking Status

Prescription sent

Sick/Fit note details

Safety net (generic) - 1 week

Adult ADHD Self-Report Scale (full)

Safety net (generic) - 2 weeks

Adult ADHD Self-Report Scale (short)

Seborrhoeic keratosis

Shoulder pain exercises

Skin cancer

Stye - causes and treatment

Test results - book GP appointment

Vitamin D deficiency

Vitamin D insufficiency