Patients may enter their details incorrectly. However, you are able to correct their details on their behalf.
To do this, follow these steps:
1. Find the patient you want to edit
There are three ways you could do this.
1. Go to the patients page and search for them:
Select 'Patients' on the top navigation menu
Type their name into the search box and press 'Enter'
Click on the patient you want to edit.

2. Click on the patient's name from the request page.

3. Open the patient in your clinical system and click the 'Person' icon on the Patchs toolbar.

2. Click 'Edit details'
This is the button next to 'Patient details':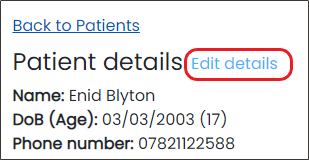 3. Change the details that need amending

Finally, click the 'Save' button at the bottom.