NHS guidance on supporting patients who do not speak English as their first language is to use a human translation service. They advise against using automated translation services such as Google Translate. However, we know that some GP practices and patients find it difficult to follow this guidance, for example when waiting for a human translator could cause unacceptable delays in patient care. We also know from our own research that patients will often use free online translation services when using online consultations anyway. We have therefore made PATCHS Translate available for GP practices that want to use it, to make the process of language translation more efficient, and to provide information security, privacy, and audit trails.
How to use PATCHS Translate
If you have PATCHS Translate turned on at your practice, patients can choose what language they see displayed in PATCHS from a dropdown menu: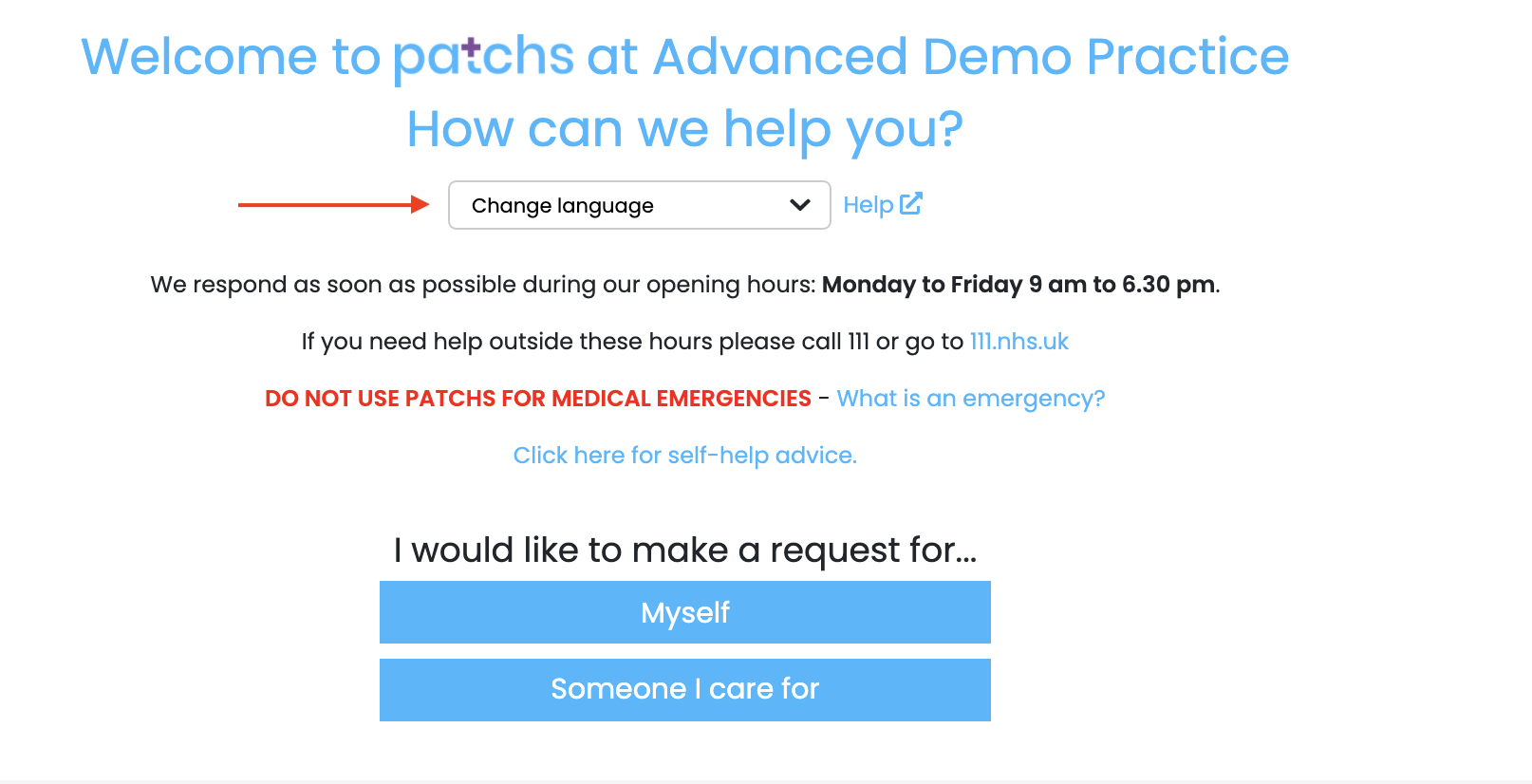 When a patient chooses a non-English language, all the text in PATCHS is translated. The fixed text within PATCHS has been checked for accuracy by a professional human translation service, however patients are still advised to contact the practice by telephone and use a human translator if they have concerns about the accuracy of the translation. You can read more about how patients use PATCHS Translate in this help article.
When they come through to your practice, requests written in a non-English language are easy to identify in your inbox by the language icon...

When you open up the request, it is shown in the patients' chosen language with an orange warning. To translate to English, click the 'Translate to English' link: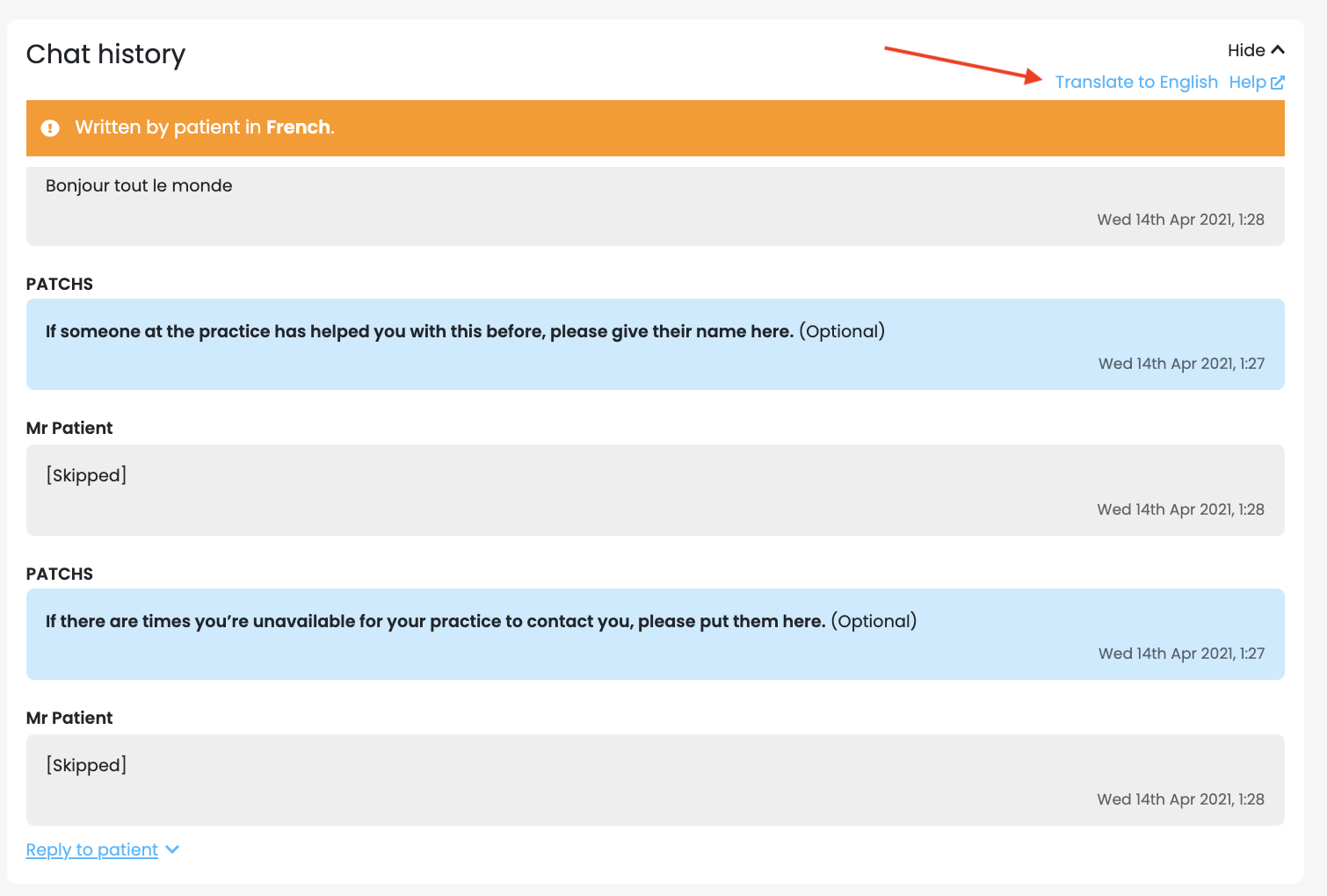 The request is then shown in English with a further warning: 'accuracy cannot be guaranteed - if any concerns, please phone the patient and/or use a human translator.' This is similar to what the patient sees when they select a non-English language: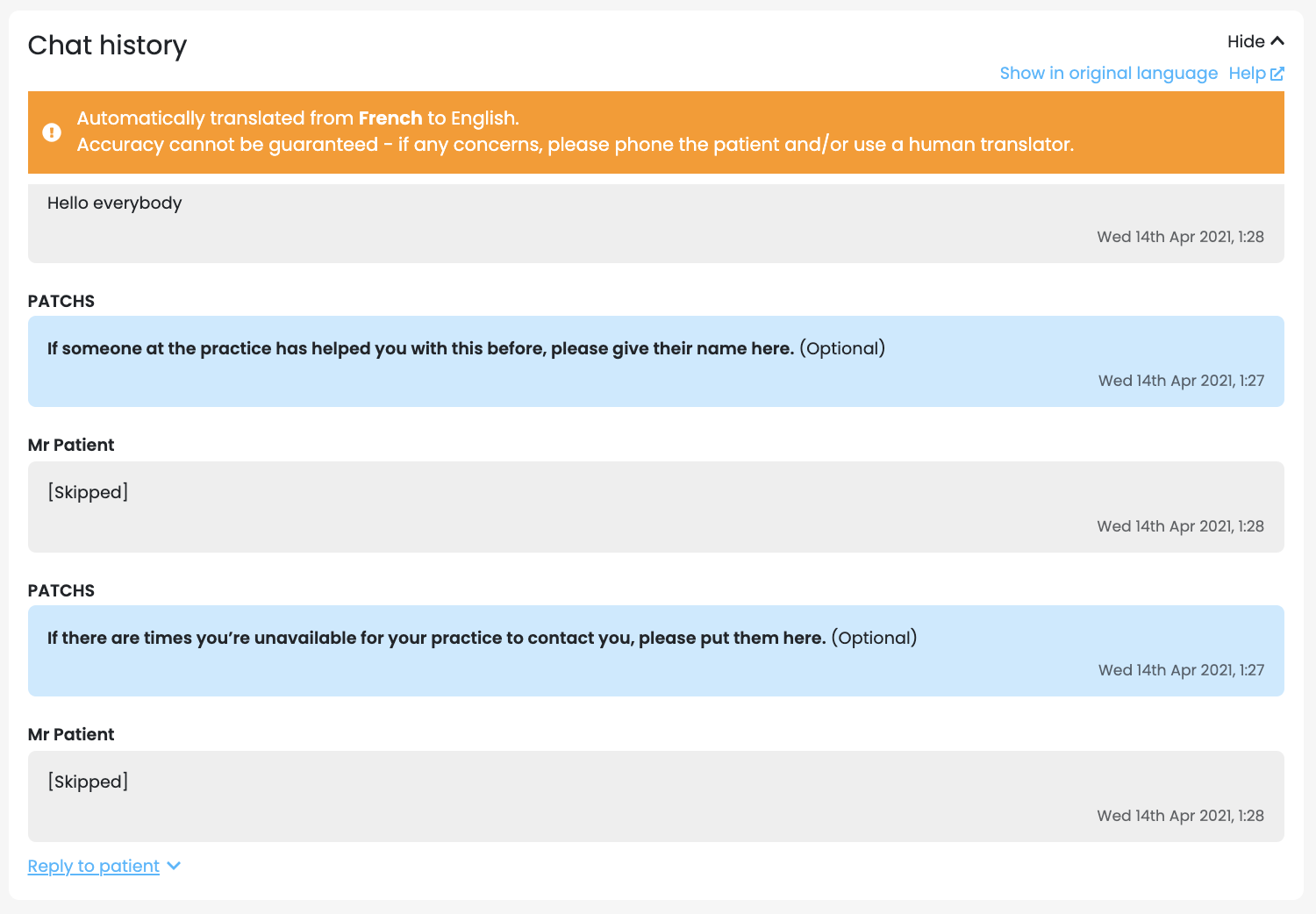 You can then reply to the patient in English. When the patient receives the message, they can select to display the message in their chosen language again: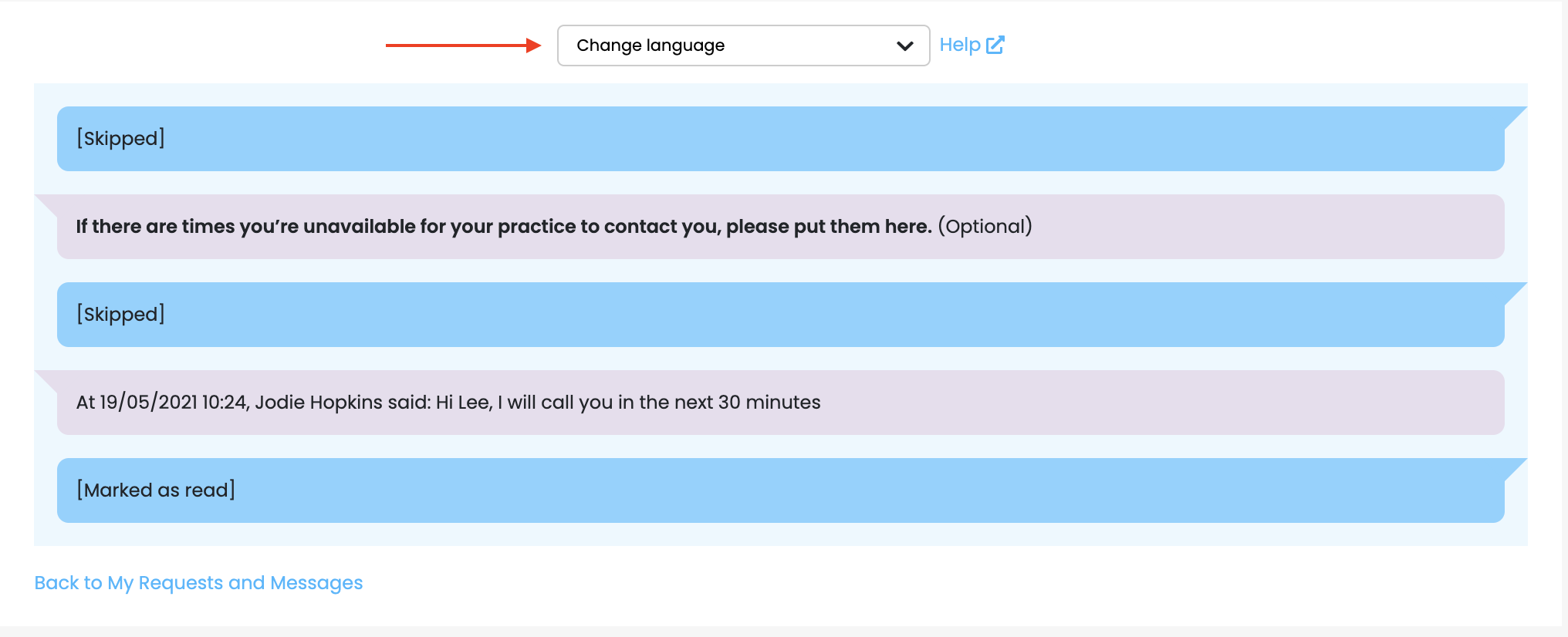 PATCHS Translate is also available when you
initiate
messages to patients. You can read more about how to do this in
this help article
.
What is the clinical risk of using PATCHS Translate?
However, as mentioned above, the accuracy of translations of fixed text within PATCHS has been checked by a professional human translation service (e.g. safety warnings at the beginning and end of the consultation process). Nevertheless, if you have any concerns about the accuracy of the translation that PATCHS provides, please contact the patient directly and/or use a human translation service.
No other consultation system currently provides a translation functionality. Online consultations have provided many benefits but there are real concerns they have exacerbated inequalities, such as for patients that speak English as a second language. Without PATCHS Translate, the only options available are to:
Use a human translator - which is slow and expensive, and removes any benefit of using an online consultation system.
Use another online translation system - which is not integrated with the online consultation system (and therefore not the clinical record), and has not been professionally checked for accuracy and safety.
What languages are provided?
We currently translate the
33 most commonly spoken non-English languages in the UK
. Please get in touch if you would like to see other languages listed by clicking the 'Give Feedback' button when logged into PATCHS. We can add other languages if they are available on
Amazon Translate
. However, it takes time to get the translation professionally checked by a human for accuracy and safety. This also incurs a cost, so we would need sufficient demand for an additional language before it was introduced.
How are spelling mistakes handled?
PATCHS Translate can cope with spelling mistakes. It has been built using machine learning not preprogrammed rules, so it has learned over time how to correctly translate commonly misspelled words.