The Patchs 1.71 release includes the following feature updates and bug fixes.
Messages Templates
PS-2027 - Editable Message Templates
You can now view and edit your practice specific message templates from the Message Templates page.

PS-1823 - Customisable questionnaires - preview
Questionnaires now preview using the full width of the screen.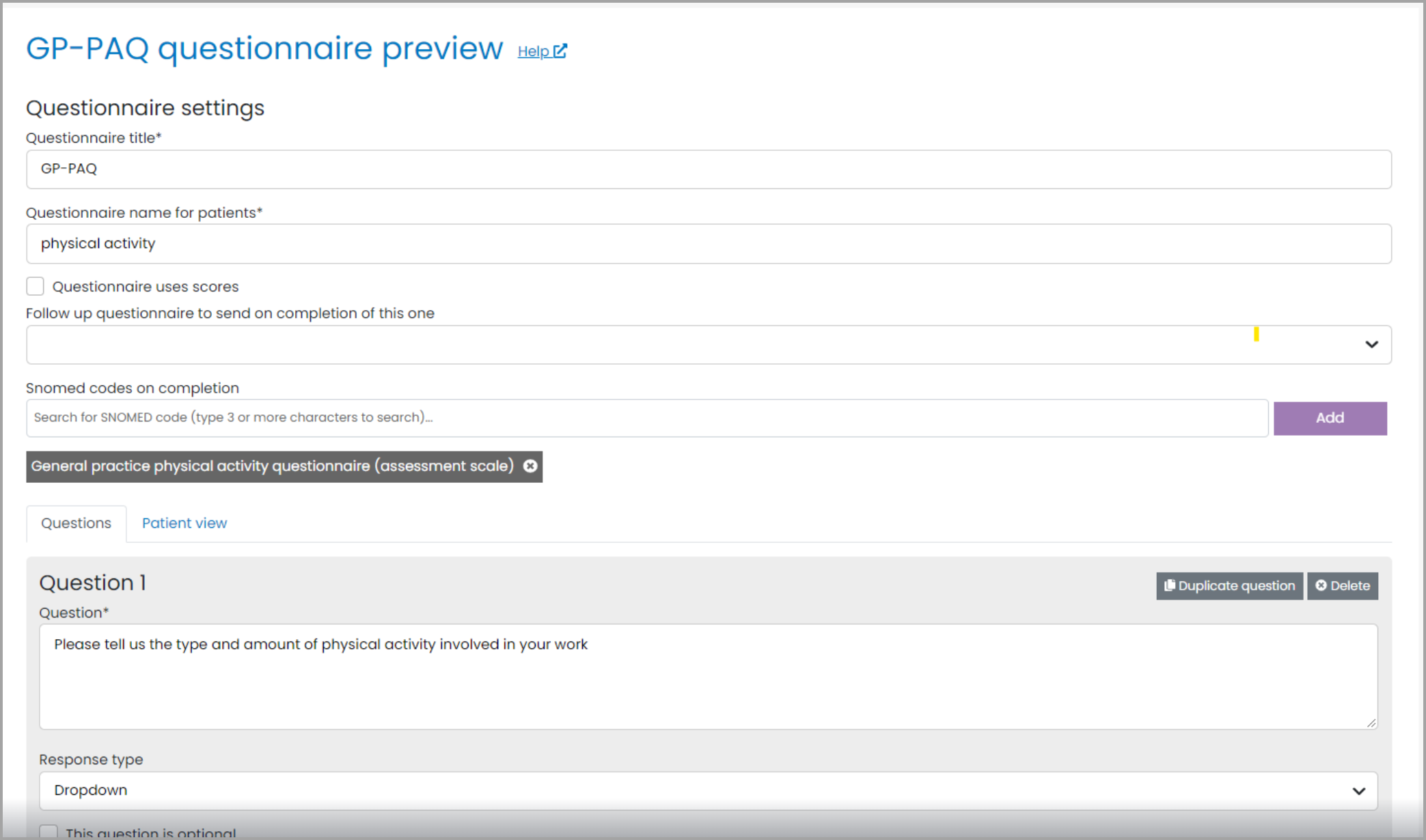 Patient Details
PS-2514 - Warning when adding or updating an NHS number
When you add or update a patient's NHS number on the patient details page, you will be asked to confirm that you have the patient's correct NHS number.

PS-2636 - Show 'Send and save to clinical system'
The 'Send and save to clinical system' button will be visible when sending a message from the
Patient details page - it will remain inactive until the patient is successfully matched to the clinical system.

Message Inbox
PS-2513 - Open completed request in a new tab
You can now view completed requests in a new tab or existing tab without being taken to the older messages.

Video call invitation
PS-2567 - Warning message wording
When inviting a patient without a valid mobile number to a video call, the warning message has been updated to show that it's an invitation not a message that's being sent.

Practice Settings
PS-2354 - One-click setup for SystmOne Agent
The SystmOne Agent can now be setup on the Gateway machine in one click.

PS-2480 - Increase landing page message length
The Patchs Admin users can now create a landing page message up to 300 characters long.

PS-2500 - Clinical system details
When a practice does not have an EHR type, this is shown as 'Other' on the Edit practice page.

Signpost AI
PS-2498 - Requests cancellation via 'Cancel and start new request'
Cancellation of request via 'Cancel and start new request' link after Signpost AI messages now shows same as if they were cancelled by the cancel button.

PS-2475 - GP practice warning when patient submits new request after Signpost AI urgent / emergency message
Staff user can view a request by a patient that has previously been signposted away, (where practice is setting is to deny request submission), they are shown a warning informing that they have resubmitted with changed answers.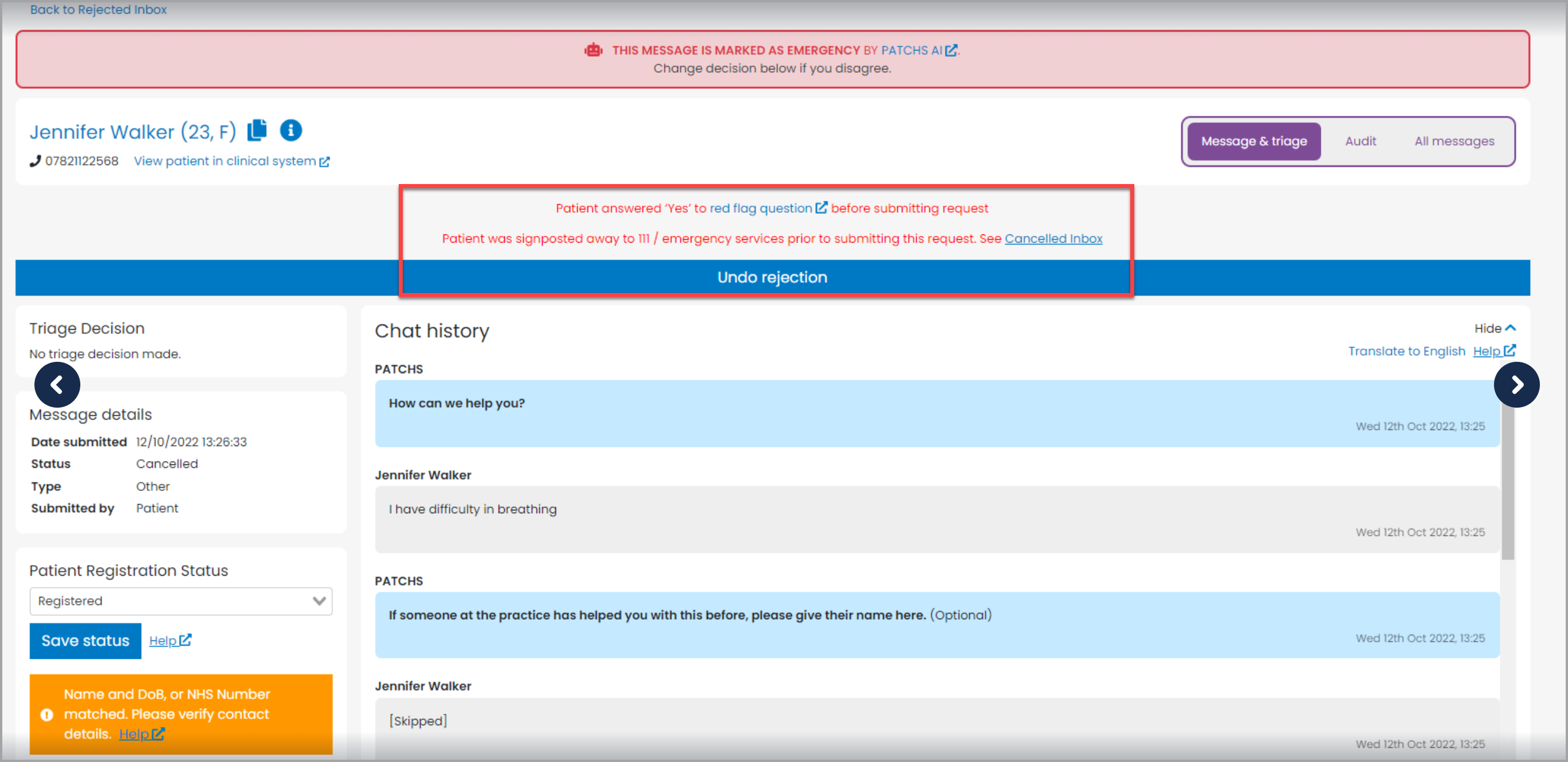 Topic AI
PS-2564 - Topic AI button text
The Topic AI button text has been changed from 'Go to questionnaire' to 'Go to questions' to match the chatbot message.

Patient Usability Improvements
PS-2519 - 'Create an account' buttons
To make it clear to patients that they're creating a Patchs account, not registering at the practice, the button wording has been changed: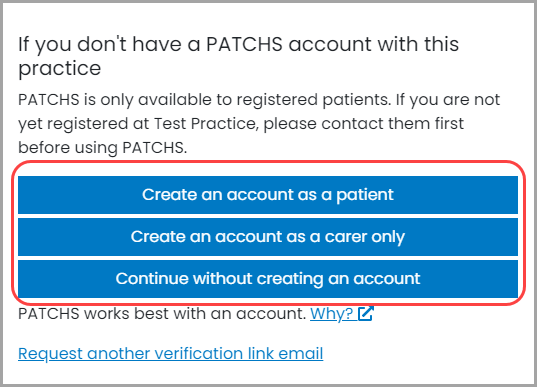 PS-2483 - Improvements to Patient Chatbot UI
The patient request chatbot has been improved so that it's clearer to the patient, the number of messages they have yet to answer.

Search for Patient
PS-2497 - Adding non-digital patient via PDS using NHS number
When searching for a non-digital patient in Patchs, using their NHS number, the wording of the warning message has been updated.

Accessibility
Accessibility improvements have been made to support patients using keyboard access and screen readers.