The Patchs 1.45 release includes the following new features and bug fixes from PATCHS versions 1.43, 1.44 and 1.45.
Customisable Questionnaires
PS-1815, PS-1281, PS-1733
You can now create your own advice, question, and questionnaire templates using the enhanced message (1.44, 1.45)
Staff users can now create their own advice, question, and questionnaire templates using an improved questionnaire editor that is accessible from the Patchs Menu.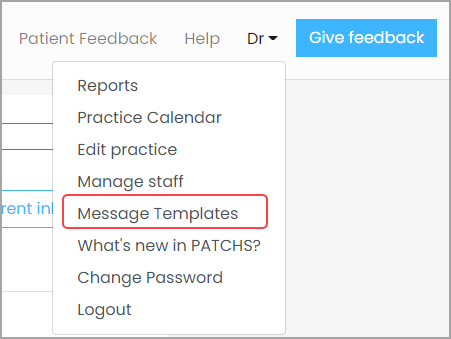 Questionnaires
PS-1766 New questionnaires
You can now send the following questionnaires to patients from Patchs
Breathlessness - MRC dyspnoea scale
Back pain red flags
FeverPAIN score

A complete list of standard message templates that are available in PATCHS can be found here.
Request Inbox and Request Details
PS-1760 GP messages that fail to deliver are returned to the sender's personal inbox. (1.43)
Practice-initiated messages that need a reply from a patient are now moved to the inbox of the user who sent the message if the email or SMS returns a failed delivery receipt.

PS-1674 Red flag rules will apply red emergency flags (1.43)
Any requests picked up by red flag rules are now predicted as having a red emergency status.

If you disagree with the suggested emergency triage status, you can change it from the Triage decision panel

PS-1745 Questionnaire answers will set patient response as an emergency (1.43)
The following questionnaire responses will set the response from the patient as emergency:
MENTAL HEALTH PHQ9
Q9 Over the last 2 weeks, how often have you been bothered by thoughts that you would be better off dead, or of hurting yourself in some way?
Response is anything other than 'None'

BACK PAIN - RED FLAG QUESTIONNAIRE
Response - Yes to any of the questions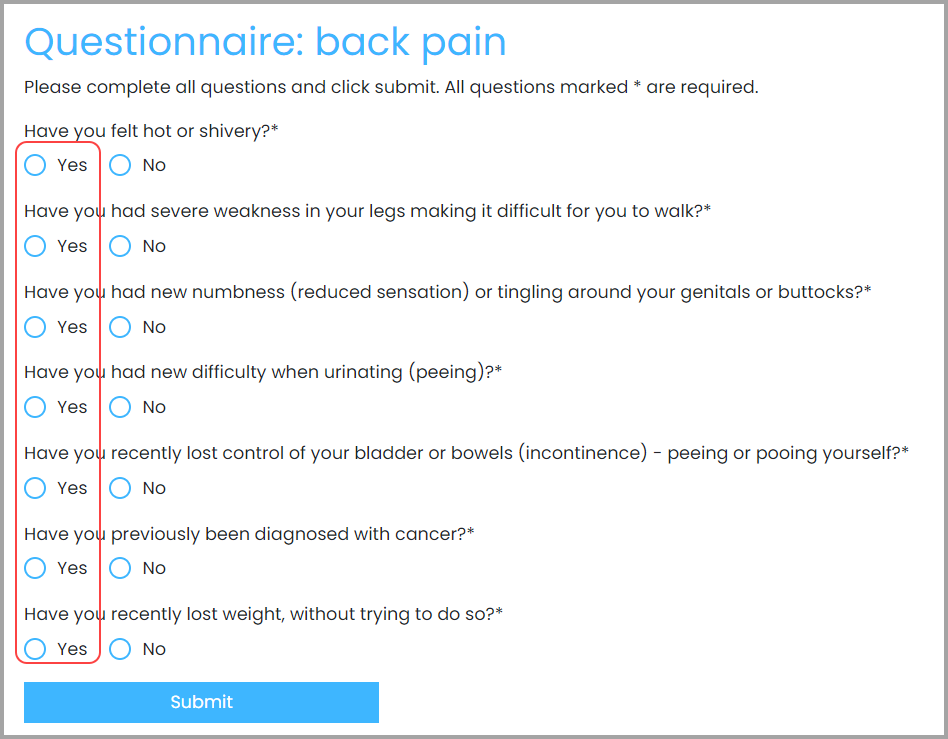 PS-1674 Any requests picked up by red flag rules are set as emergency
.

PS-1689 Highlight red flag question responses to staff (1.43)
On the request details page you will now see if (and how many times*) a patient has answered 'yes' to the initial red flag question before submitting their request.

Personal Inbox
PS-1755 Tabs for assigned requests and requests with tasks (1.45)

PS-1774 Inbox status icon layout (1.44)
The inbox status icons now show on 2 lines, making them easier to understand

Request Details
PS-1829 Enable and audit triage topics for all practices (1.45)
An optional field has been added to the Triage decision panel that you can use to indicate the main topic of an incoming request. The triage topics are now available for all practices and their use is included in the triage audit.


Reporting
PS-1633 Weekly Count and Monthly Count time series reports (1.43)
2 new request reports are now available
Weekly count time series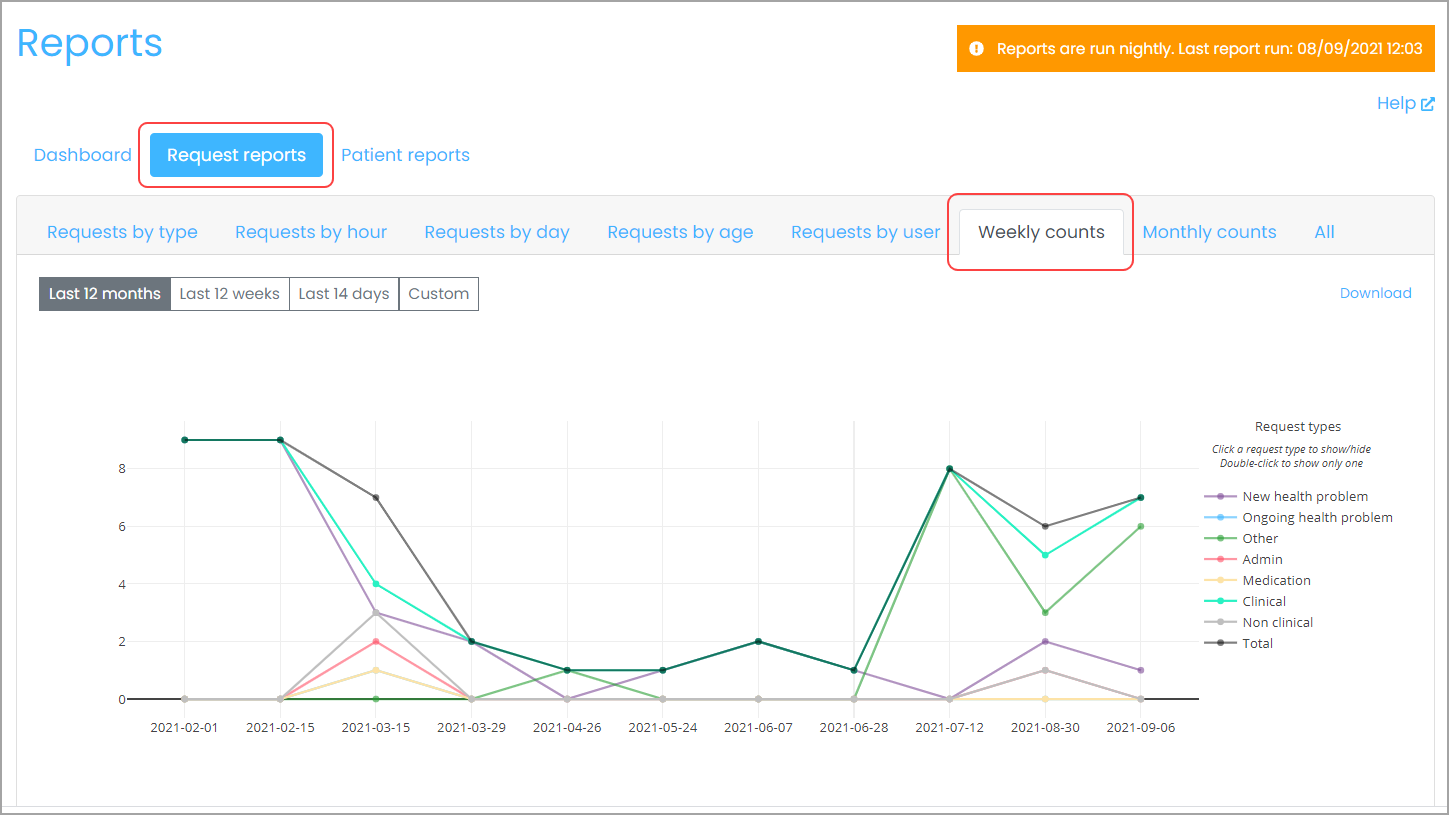 Monthly count time series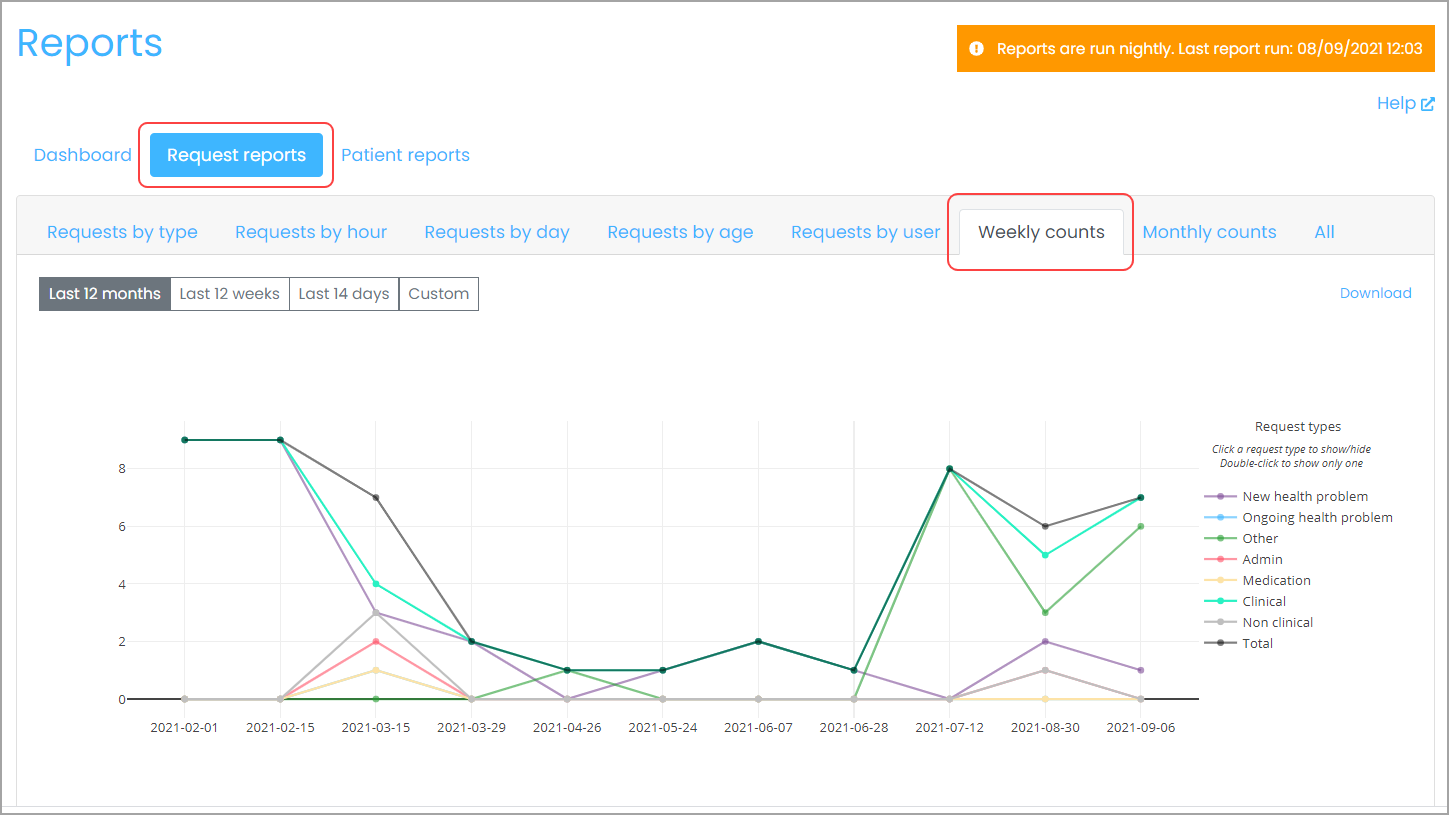 Practice Details
PS-1538 Medication requests can be enabled or disabled by a Patchs Admin user.
To enable medication requests you should tick Enable medication requests on your practice's feature settings page.

PS-1817 Practice settings for all the available AIs on the features tab (1.45)
Staff with the Patchs Admin role can switch on/off Patchs AI models for their practice

PATCHS AI
PS-1753 Face to Face AI (1.43)
A 'Face to Face' AI model has been added that will predict when a patient request is likely to require a face to face appointment.
This will show a new inbox icon and will suggest the 'face to face' triage action on the request details page.

If you disagree with the suggested 'face to face' triage action, you can change it from the Triage decision panel

PS-1675 Signposting AI now runs at the end of the initial request chat and signposting links are offered to the patient as an alternative to submitting the request to the practice. (1.44)