What are red flag symptoms?
We consider symptoms as red flags if they suggest a medical emergency i.e. a serious condition that needs dealing with immediately. Typically, they would be dealt with by the emergency services: 999 or A&E. Examples include symptoms of:
Heart attack, such as chest pain
Stroke, such as face drooping on one side
Severe allergic reaction, such as difficulty breathing
How are red flag symptoms usually dealt with in Online Consultations?
Many Online Consultation systems stop patients from submitting a request if they mention a red flag symptom. They prevent them from contacting their GP practice and advise them to go call 999 or attend A&E. They typically do this at multiple points throughout the process. There a two problems with this approach:
1. Patients often don't want to call 999 or attend A&E. So instead they 'game' the system by re-submitting their request, but not mentioning the red flag symptoms. This is unsafe because the GP practice aren't aware of a potentially red flag condition and cannot appropriately prioritise the request. We are aware of one case where a patient re-submitted their request six times before they got through to the practice - this did not end well for the patient or the GP practice. NHS Digital are encouraging Online Consultation providers to move away from this type of approach to red flag symptoms.
2. Often when patients describe red flag symptoms, they aren't actually red flag conditions. For example, chest pain could be costochondritis, and face drooping could be Bell's palsy. Patient presentations are much more nuanced than lists of red flag symptoms and in reality may not be serious after further discussion. Advising these patients automatically to call 999 or go to A&E is an inappropriate use of resources - for both the patient and the health care system as a whole.
How does Patchs deal with red flag symptoms?
We do things differently: instead of denying patients from contacting their GP practice at multiple points throughout the system, we support both the patient and GP practice come to their own decision. We think this is safer and more efficient. There are five key points to our approach:
1. Warning. Patients are advised not to use Patchs for medical emergencies before they submit a request, and are given a link to this article that explains what medical emergencies are.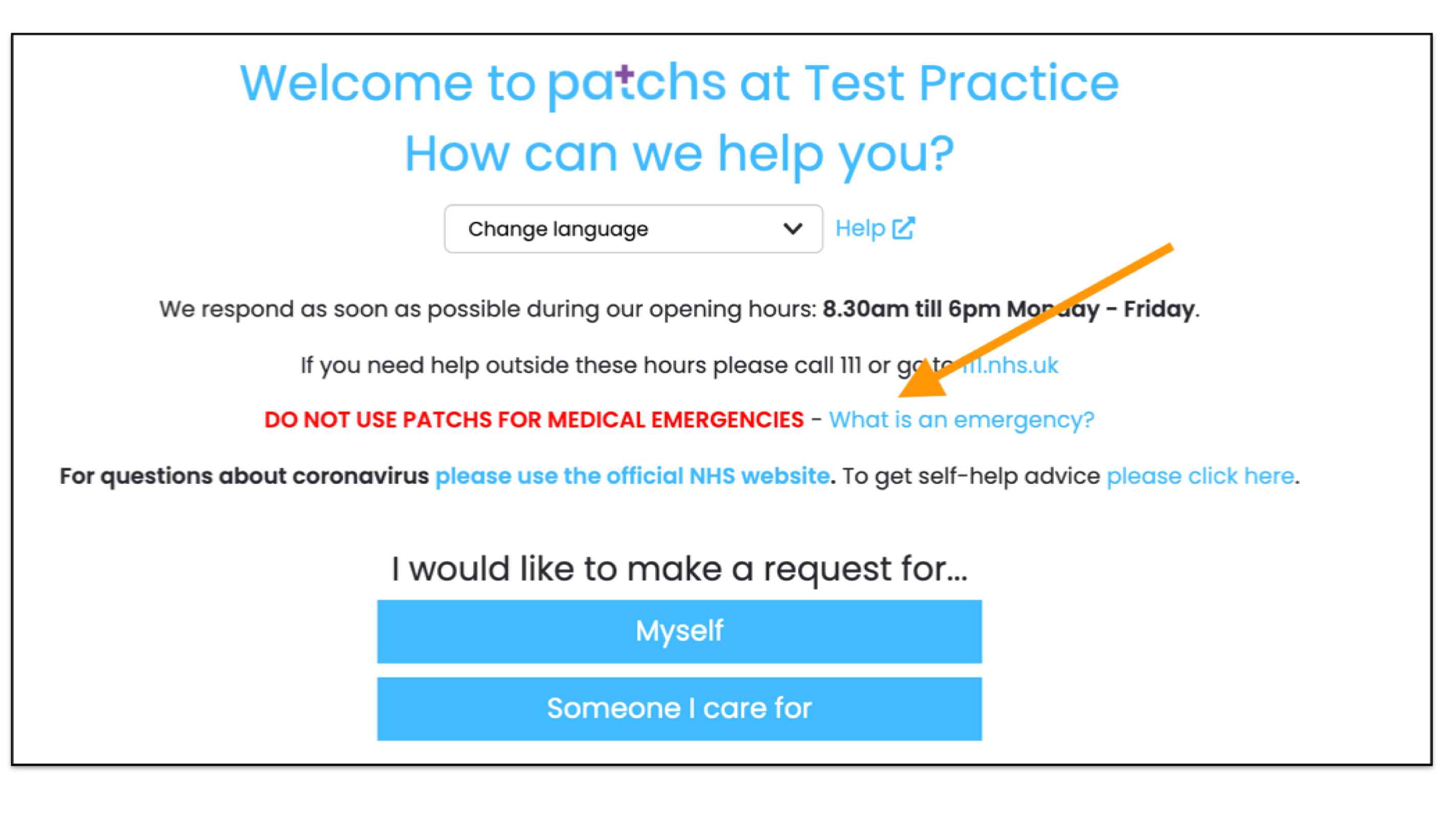 2. Red flag question. Before answering any questions they are specifically asked if they have any red flag symptoms.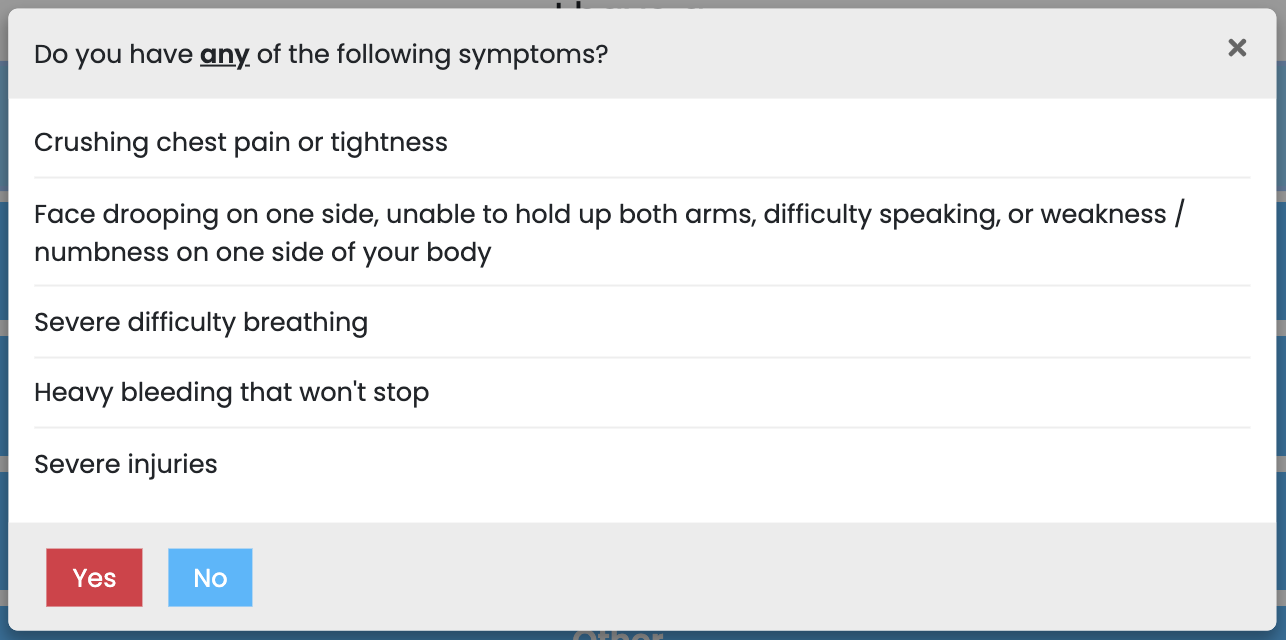 If they answer 'yes' they are advised to call 999 or A&E. This is the only point at which Patchs prevents a patient from submitting a request.

3. Confirmation. After answering the Patchs chatbot questions, patients must tick a checkbox to confirm they do not have a medical emergency.

4. Red flag. However, if a patient still submits a request that mentions red flag symptoms, and you have Urgency AI turned on at your practice, the request will be marked with a red flag and sent to the top of your inbox so you know it needs dealing with ASAP.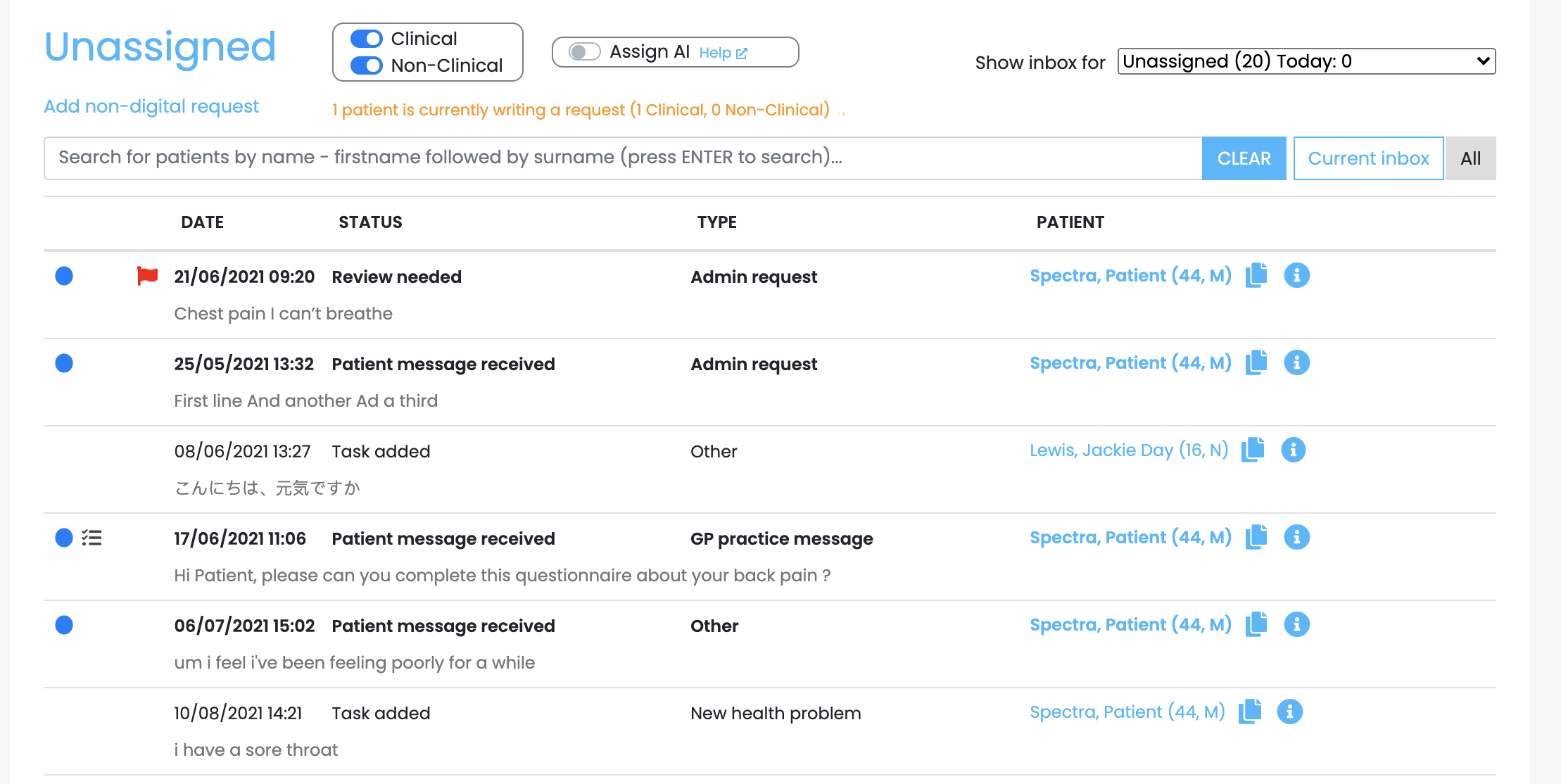 5. Red flag question notification. If the patient has previously said 'yes' to the question in point 2 above, this is highlighted to the GP practice in the request details page.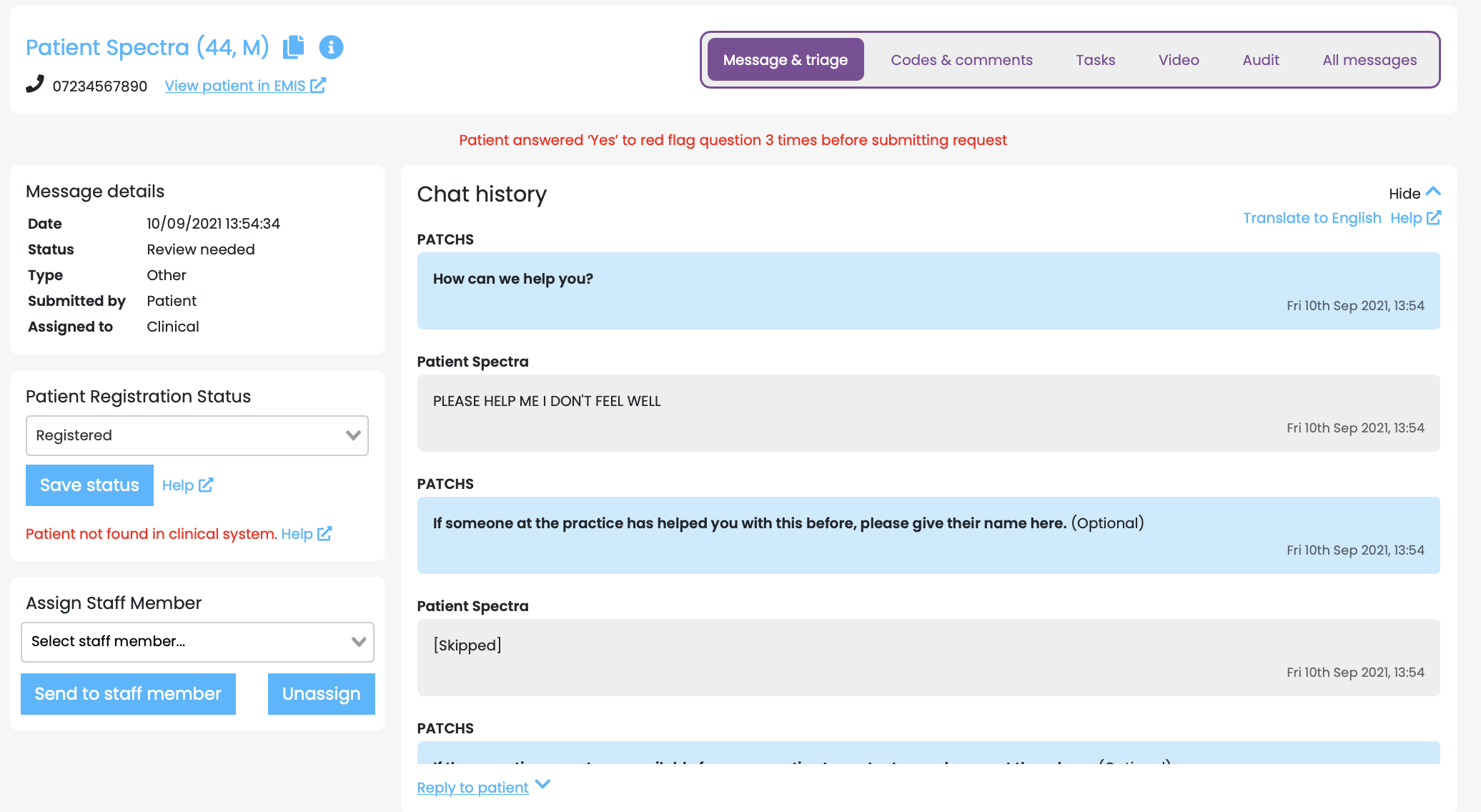 The red flag question
Do you have any of the following symptoms?
Crushing chest pain or tightness

Face drooping on one side, unable to hold up both arms, difficulty speaking, or weakness / numbness on one side of your body

Severe difficulty breathing

Heavy bleeding that won't stop

Severe injuries
Yes / No