Patients may enter wrong details for a number of reasons. If you are happy the patient has entered them wrongly by mistake, you can update their details for them.
1. Go to the patients page...
By selecting 'Patients' on the top navigation menu.

2. Search for the patient you want to edit...
By typing their name into the search box and pressing 'Enter' and clicking on them.

3. Click 'Edit details'...
Next to 'Patient details'.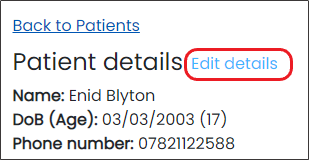 4. Change the details you need to...

And click 'Save'.