Patchs version 1.86 has now been released. It contains a number of updates, designed to improve the experience of both practices and patients.
Additionally, several recent updates have now been moved out of the pilot phase and into general release. These include:
Please note, staff user timeout settings are presently still in the pilot phase, but will be on general release soon.
Practice-facing Improvements
"Submitted by" Reports
In order to help you better understand how Patchs is being used at your practice, all staff users can now see by whom requests have been submitted.
In the Reports page, there is now a new "Submitted by" tab. Click on the tab to reveal a breakdown of the data. You will be able to see a pie chart summarising the proportion of requests made by:
staff
patients via Patchs web
patients via the Telephone Assistant
carers via Patchs web
carers via the Telephone Assistant.
Additionally, you can use the filters "Submitted by role" and "Submitted by name" to find out the role/name of the staff member who submitted any given staff request.
All of these reports are downloadable.
You can read a step-by-step guide to "Submitted by" reports here.
Place dashboard is the new name for CCG dashboard
The CCG dashboard is now called the Place Dashboard. This means that Patchs users who have reporting access to their locality will now see "Place" instead of "CCG" in every instance where "CCG" used to appear.
Updated Icons in "All Practice" view
Previously, if a staff user who works across multiple practices was in "All Practices" view – and only some of those practices had Patchs AI functionalities switched on – it was impossible for them to tell which non-Urgent/non-Emergency requests had been predicted as Routine, and which had no prediction at all.
Now, requests marked as Routine by Patchs AI will display a grey flag icon.
Requests made to those practices without Patchs AI enabled (and therefore marked with no prediction) will show no icon.
Urgent requests will continue to display an orange flag icon.
Emergency requests will continue to display a red flag icon.
Admin requests or requests for medication will continue to show a purple flag icon.
Finally, requests marked as needing a face-to-face appointment will display the usual face-to-face icon (two people).
Those requests marked as not needing a face-to-face appointment will display the face-to-face icon crossed out.
This feature mitigates a clinical risk. Full details can be found in the Patchs Clinical Safety Reports pages.
You can read further details about Prediction icons here.
Customer Support phone number easier to find
So that we can support you better, the Advanced Customer Support telephone number (0330 303 1274) will now be visible in the Help drop-down menu of all Patchs staff users' dashboards: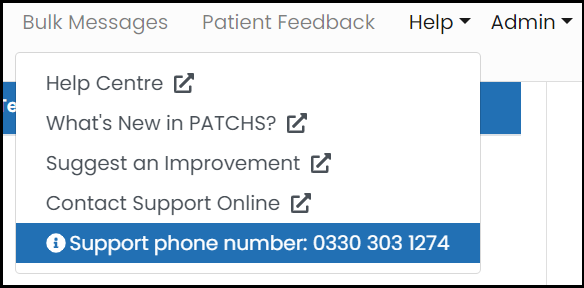 Patient Details tooltip
The Patient Details tooltip, visible at the top of any given patient's page, has been reformatted to make it easier to read.
Additionally, for those patients whose carer is also a patient, the patient list will now display the carer's age, phone number and gender.
Hover over the "i" icon to reveal the information: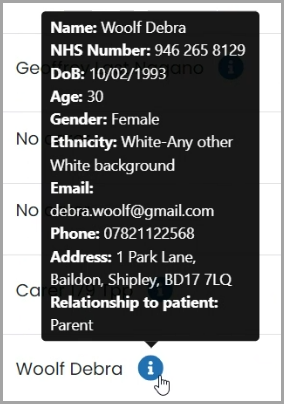 Telephone Assistant: introducing spending limits
Patchs Admin users at practices with the Telephone Assistant enabled can now set a maximum monthly spending limit.
This can be done via the Feature Settings page, where you can specify the number of minutes of Telephone Assistant activity you wish to permit each month.
The associated cost will be calculated in pounds and pence, and displayed to the right of the input field. Leave the field blank for no spending limit.
When/if the specified limit is reached, the Telephone Assistant will be disabled. You can override the disabling either by updating the limit set to a higher value, or by leaving the field blank (no limit).
Please refer to the Enabling the Telephone Assistant page for a detailed description of how spending limits work, and how to set a Telephone Assistant spending limit for your practice.
GMC codes: now permitted to be non-unique
Previously, GPs who attempted to register as a new Patchs GP user when they had previously registered with Patchs using a different email address, were unable to do so. This was because of the apparent duplication of their GMC code. Now, they will be able to continue with their registration as normal.
Bulk Messages: instructions for Vision practices
When creating a new bulk message, staff users will now see a third tab labelled "Vision". Click on the tab to see the information Vision users need to include when sending a bulk message.
You can read all about how to send bulk messages here.
Patient-facing Improvements
Consistent Signpost AI messages from responses to Topic AI questions
Previously, it was possible for a patient to receive an Urgent or Emergency signpost message from Patchs AI after submitting their answers to initial questions – but then subsequently, for that same patient to receive a non-Urgent/Emergency signpost message following responses to follow-up Topic AI questions or questionnaires. This was confusing for the patient, as it sent mixed messages.
Now, that will no longer happen. A Signpost AI message will never be sent to a patient if it would indicate a lower urgency than any Signpost AI message previously sent during the same consultation.
"Save to device" now fully functioning on iOS devices
Previously, the "Save to Device" function – which allows patients to easily save PDF attachments to their device – had not been functioning correctly on iPhones or iOS devices. This has now been fixed.
Chatbot button update
Patients in the process of submitting a request will now see a button which says "Next" beneath each answer field. They should press this button to submit each answer in turn.
When they have answered all the questions, patients will see a "Finish" button, which indicates that their request has been submitted.
Previously, this button said "Submit" – with a "Confirm" button displayed beneath the final question and answer field.
Patients no longer asked for consent twice when invited to self-book
Previously, when GP users sent self-book invitations to non-digital patients, requests for consent were being sent twice. This has now been rectified.