The Patchs 1.82 release includes the following feature updates and bug fixes:
Bulk Messaging
PS-2988 Staggered bulk message sending
When staggered bulk message sending is enabled for your practice, you will be able to choose the number of working days you would like the bulk messages to be staggered over.
Patchs will spread the message sending evenly across a number of days and sending will start from the chosen start date and time.
Each subsequent group of messages being sent 24 apart*


Individual Messages
PS-2545 Schedule individual messages
When scheduled individual messages are enabled for your practice, you will be able to choose when a patient message will be sent, you can choose to send it either
Now
At 8am the next working day
At a specified date and time

If you choose to schedule a message to send at a future date/time you can choose to to save a placeholder message to the clinical system - so that you can see when a message has been scheduled for a future date/time.
When a message has been scheduled to send, you will see the message in the Scheduled Messages tab.
Requests for under 16s
PS-3051 Block carer requests for under 16s
By default, parents and carers are able to register and make requests on behalf of dependents of any age, but your practice can now choose to block requests and registrations for dependents under the age of 16 using the request setting on the feature settings page.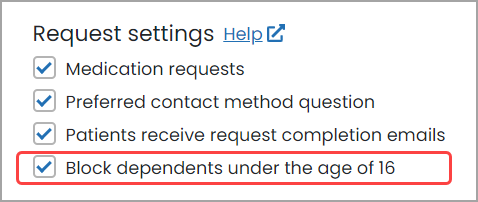 Self-book appointments
PS-3250 Update failed booking wording
The wording of the self-book, failed booking message has been updated so that the patient now sees the details of the appointment they tried to book along with a message asking them to click a link to try again.