What are we trying to do?
We have built world-leading Artificial Intelligence (AI) into PATCHS to decrease GP practice workload and improve patient safety by triaging patient requests automatically. As part of our ongoing clinical evaluations for our MHRA registration and UKCA marking, we want to directly compare the performance of PATCHS AI and experienced GPs when reviewing the same patient queries. We are trying to answer the question: is PATCHS AI as good as an experienced GP?
This project is testing the following PATCHS AI modules:
How are we doing this?
There is no 'gold standard' test to determine the 'correct' decision for patient queries in primary care. We will therefore consider a triage decision as 'correct' when 3 different GPs all agree on the same triage decision. This is called a 'reference standard'.
We need more than one experienced GP to compare against PATCHS AI for the test to be convincing. We will therefore combine the decisions of lots of different experienced GPs at random to simulate the performance of one single GP.
Our approach is summarised in this diagram:
Stage 2: Reconsideration
Stage 3: Resolution
In stage 3, we take the highest triage label in terms of clinical acuity or importance that has been applied by at least one of the GPs in stage 2 as the reference standard. The rationale for this approach is to obtain the safest triage label for the request, in order to align with the priorities of GP staff users from our empirical research and workshops.
Payment
Guidance
To access the labeling page go to www.patchs.ai and log in. If you use PATCHS in your own practice, you can access the labeling page by choosing 'PATCHS AI' in the practice dropdown menu. Below is a screenshot of the labelling screen, and a brief instructional video (it does not include any real patient information).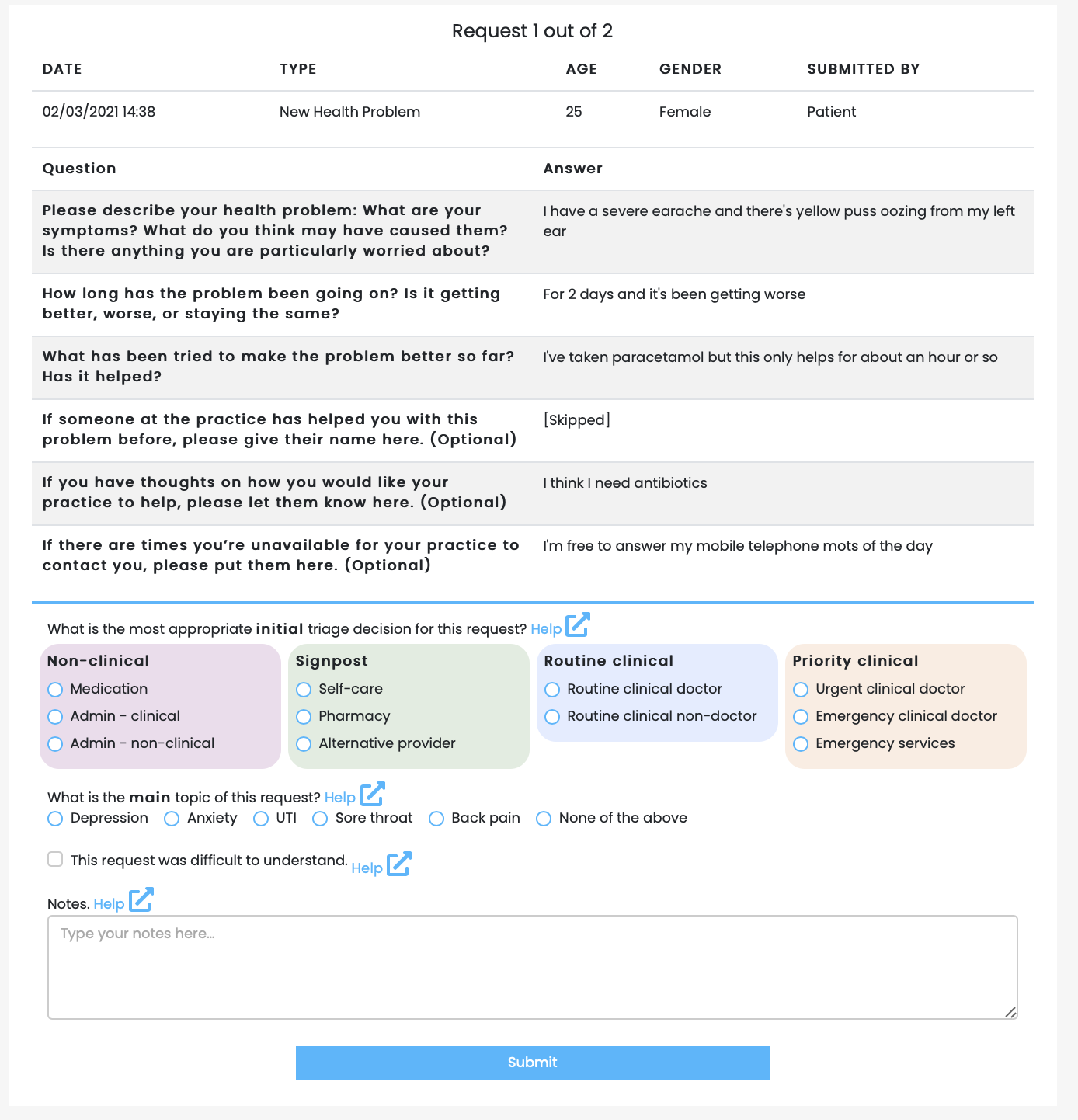 Imagine you work in a typical GP practice
You do not have...

(Advanced) Nurse Practitioners that can diagnose and treat minor illnesses
Open access specialist services e.g. Open Access Physiotherapists
Special arrangements with outside services e.g. opticians that deal with acute eye issues and refer to ophthalmology if necessary
An in-house pharmacist

You do have...

GPs
Nurses who are skilled at LTC management like asthma reviews and pill checks etc
Health Care Assistants (HCAs) that can do things like measure blood pressure and take blood
Receptionists
Secretaries
Typical services nearby e.g. GUM clinic, opticians, dentist
A local pharmacy who is equipped to deal with minor illnesses like: aches and pains, sore throat, coughs, colds, flu, earache, cystitis, skin rashes, teething, red eye. See this link for more information. After assessing the patient, if the pharmacist thinks the patient needs to see a GP, they will direct the patient to you.

Services you do provide...
Services you don't provide...
You are a very efficient practice and always adhere to the following timescales when dealing with patient queries...

Emergencies - same day
Urgent - within 48 hours (i.e. either today or tomorrow)
Routine - after 48 hours but no longer than 1 week; you can usually accommodate continuity of care and requests for specific clinicians within this timeframe too
Medication requests - within 48 hours (i.e. either today or tomorrow)
Admin clinical requests (e.g. fit / sick notes, TWMIC letters) - within 1 week
Admin non-clinical requests (e.g. receptionist needs to book a blood test or smear) - response on same day from receptionists
What is the most appropriate initial triage decision for this request?
Non-clinical
Only label topics that are substantially mentioned. For example, if mentioned in a way that would make you want to discuss it further with the patient. Don't label topics only mentioned in passing.
Select more than one topic if more than one is mentioned. If multiple clinical topics are mentioned, please select all relevant labels.
'Other' is a helpful answer! Knowing a request mentions other topics helps us identify negative examples. You can select 'Other' on its own where no 'named' topics are mentioned at all: for example, a request about hair loss. You can also select 'Other' if another topic is mentioned in addition to other 'named' clinical topics: for example, if depression, back pain, and eczema are all mentioned in one request you should select 'Depression', 'Back pain', and 'Other' (for eczema).
Do not label requests solely asking for medication as the condition they treat. Only label them with a clinical topic if they also mention health problems that require review by a clinician. E.g. Do not label requests solely asking for antidepressants as 'depression' unless they mention symptoms like worsening low mood or suicidal thoughts.
Does this patient need a face-to-face appointment?
This question is trying to find out whether you think the patient needs an in-person appointment to resolve their query. It is testing the Face-to-Face (F2F) AI.
The question should only apply to requests that would be passed onto a clinician to resolve i.e. requests you have triaged as Routine clinical or Priority clinical.
Always answer 'No' if you have triaged the request as either Non-clinical or Signpost - even if the request does technically end up in as an in-person appointment (e.g. smear test, flu jab etc). This is because only clinicians who use PATCHS can say whether the patient needs an in-person appointment - not receptionists or other non-clinical staff.
This request was not written in English
Tick this box if the patients' request is written in a non-English language.
Notes
This section is for you to write notes on your rationale for choosing a particular label, and is optional. We would recommend writing notes for any labels you have applied where the decision hasn't been straightforward. You should only write notes that you would be comfortable with other GPs in the project reading because they will be anonymously shared with GPs 1-3 during stage 2 (reconsideration) and potentially also with the expert panel during stage 3 (resolution).